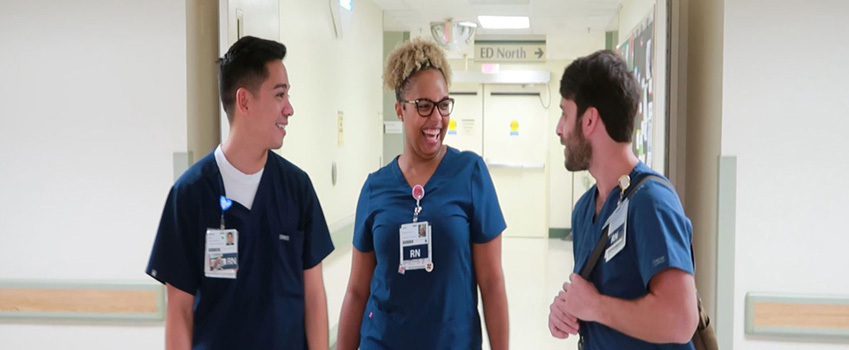 Nurse Residency
All Sentara Hospitals joined the Vizient/AACN Nurse Residency Program™ (NRP) which effectively supports new nurse graduates as they transition into their first professional roles. Built on evidence based curriculum developed by experts from academic medical centers and nursing schools across the country, the program focuses on these critical areas; leadership, patient outcomes and professional role.
Continuing Education: A Focus on Lifelong Learning
Sentara Nursing adopted the aspirational goal of an 80% bachelor's prepared workforce in response to the Robert Wood Johnson Foundation and the Institute of Medicine's Future of Nursing Report recommendation to increase the percentage of Bachelor of Science nurses. There are several components within Sentara to support academic progression to achieving a BSN: tuition assistance, scholarships, college and university discounts, the RN to BSN program at the Sentara College of Health Sciences, flexible staffing, and informational sessions. We are pleased that at the end of June 2022, 72.7% of our nurses have achieved their BSN. When with nurses with formal contracts to obtain their degrees, we project 84.1% of Sentara Nurses will achieve this important goal.
Specialty Internships
We have Internships for areas such as Critical Care, Labor and Delivery/Antepartum, Perioperative 101/Surgical Service, and the Emergency Department to name a few.
Lifelong learning
We offer programs to support continued learning through many comprehensive and established on-the-job training programs. Enhance your skills with our system preceptor and charge nurse trainings. Our Epic efficiency classes support you in real time as you learn our EMR system and protocols. Access to robust on-demand platforms let you continue to learn as you do on your own time.
Simulation
To support our nurses who "learn by doing" our central and regional Simulation Centers offer a realistic, clinical environment, to allow participants to experience a representation of real events for the purpose of deliberate practice and learning in a controlled setting. Simulation Specialists are Registered Nurses (RNs) from a variety of clinical backgrounds with expertise in professional development and can assist groups in simulation development.
Apply and grow your nursing career here at Sentara.
Hiring nurses for all specialities.

APPLY NOW