Ribbon cutting at Sentara Advanced Imaging Center in Woodbridge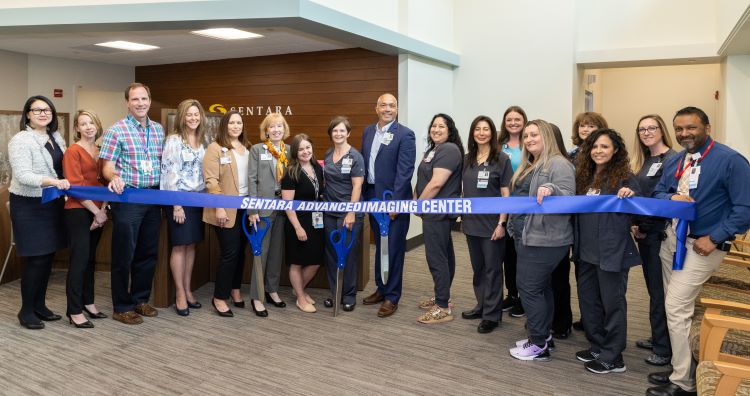 Sentara Health leadership and supporters gathered today to dedicate the new Sentara Advanced Imaging Center with a ribbon cutting, reception, and tours of the facility. The facility opened its doors earlier this year and is located in the Century Building on the campus of Sentara Northern Virginia Medical Center in Woodbridge, Va. The facility offers some of the newest and most innovative imaging services available using the most advanced technology.
Sentara's new Advanced Imaging Center in the Century Building offers:
3D Mammography
Ultrasound
Bone Density Scans
CT Scans
PET CT Scans
Walk-in X-Ray services


In addition to this array of imaging services, consumers will find some of the area's leading radiologists, the latest technology and a caring, compassionate staff offering the highest-quality care with competitive pricing.
"An important goal of this facility is to create a patient-centered environment utilizing state-of-art design, all created to make care more convenient, accessible, and easier for all those we serve," said Valerie Keane, FACHE, Vice President of Operations at Sentara Northern Virginia Medical Center. "This Imaging Center is an important part of our mission and vision: to improve health every day and to become the provider of choice for our Prince William County community."
People in need of outpatient imaging services no longer enter the main hospital building, which at times can seem hectic and overwhelming to some visitors. Sentara's new Advanced Imaging Center offers a simpler customer experience in a calmer less stressful setting. Sentara even offers the convenience of free valet parking.
"Sentara exists to be the trusted partner in our community by providing healthcare that is simple, seamless, personal, and more affordable, we are practicing the future of healthcare today," remarked Keane at the ribbon cutting.
Additional services available at the Sentara Century Building include the Sentara Cancer Network Resource Center, Sentara Therapy Centers, and Sentara Medical Group.
Sentara Advanced Imaging Center is located at 2280 Opitz Boulevard in Suite 100, the first building on the right as visitors enter the main campus of the hospital from Opitz Boulevard.
Sentara Advanced Imaging Center is open Monday through Friday from 8:00 a.m. to 3:30 p.m. To schedule an appointment, call
703-523-1560
. Learn more about available imaging services at Sentara.com/imaging.
By: Jon Radulovic
---