A Change in Leadership
Martha Jefferson Hospital Foundation Changes Leaders, Building on Past Success for Promising Future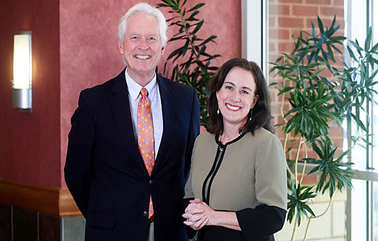 After more than 30 years, Ray Mishler, Vice President of the Martha Jefferson Hospital Foundation, will retire on March 31, opening the door for new successes under the leadership of executive director Kimberly Skelly.
Mishler leaves behind a legacy of extraordinary accomplishments, including a successful capital campaign for the construction of the new Martha Jefferson Hospital on Pantops Mountain; the establishment of the Haden Nursing Institute, a nationally recognized model that supports nursing education and professional development; and raising $3.5 million annually for cancer care, palliative care and many other patient care programs.
"Ray has strengthened Sentara Martha Jefferson Hospital through his extraordinary abilities to create and nurture relationships in our community," says Sentara Martha Jefferson President Jonathan Davis, FACHE. "His character is built around servant leadership in our community and through the Foundation, supporting some of the most significant and transformational successes in Sentara Martha Jefferson's history. Ray has made the hospital and our community stronger. Ray is genuinely proud of the work we do at the hospital, believes in our cause passionately, and is humble and trustworthy in his stewardship of gifts."
As Mishler steps down, Kimberly Skelly moves into the role of executive director of the Foundation. Skelly brings more than 20 years of fundraising experience, serving most recently as chief development officer for the National Trust for Historic Preservation. While at the National Trust, headquartered in Washington, D.C., she directed the $200 million Campaign for America's National Treasures, the largest campaign in the organization's history. Under Skelly's leadership, the campaign significantly exceeded its goal with gifts totaling $300 million.
Since joining the Martha Jefferson Hospital Foundation in January, Skelly has immersed herself in learning about the work of the hospital, meeting donors and volunteers, and envisioning how the Foundation can have the greatest community impact in the years ahead.
"I'm focused on advancing the Foundation's philanthropic priorities, and finding new ways to inspire community members to be part of the hospital not only when in need, but also in times of health and wellness," Skelly says. "I believe the Foundation can play a role in promoting these values and bringing people together to find spiritual strength and physical renewal.
"Ray has been such an important part of the hospital and of the community," Skelly adds. "I'm honored to be succeeding him as head of the Foundation and building on his accomplishments. I'm pleased to return to this community I love, and I'm committed to the Foundation's promise that every dollar we raise stays in Charlottesville to positively impact the lives of people in our community."
By: Neil Mowbray
---