A message from our Chief Nursing Officer during National Nurses Week 2022
Rooted in Strength: Thank You to Our Nurses!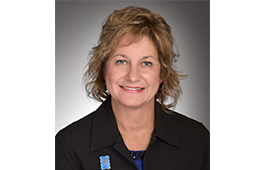 A Message from Genemarie McGee, Sentara Corporate Vice President and Chief Nursing Officer:
Rooted in Strength: Thank You to Our Nurses!
This year's National Nurses Week theme is Rooted in Strength, and I believe there is no better phrase to capture what I have seen from our nursing team these last two years. We have been tested time and time again and, together, we have risen to the challenge, we have held compassion for our patients, and supported each other to provide quality, safe care each and every shift. And we have been able to do this because of the strength and dedication from each of our nursing team members.
When I think of the collective work of our system-wide Sentara nursing team, I am in awe. From our nursing colleagues at Optima reaching out to help our nurses communicate to our patients' families, to our many educators and non-direct care nurses who worked at the front line. It has been impressive. From our simulation team members who have onboarded a new group of employees every week this past year to assist in safely staffing our frontline, to the many nursing leaders that worked evenings, nights, and weekends to ensure we could take care of our patients. From our SMG nurses who supported a community hotline to help take care of those around us, to our direct care nurses, who have been the steadfast core of our nursing care. It has been impressive. From our home health nurses to our case management teams assisting in transitions of patients out of their hospital beds. The teamwork displayed by nurses across our system was and is impressive.
Now as I look to the future, I'm reminded of something Florence Nightingale once said, "Let us never consider ourselves finished nurses … we must be learning all of our lives."
We have learned from the challenges of the past two years and have worked to turn those experiences into better processes and procedures.
We continue to see our nurses pursue new training and credentials to advance their skills and ability to provide the best care to our patients.
We are staying curious, embracing new technologies, and working across roles and divisions to achieve even more seamless and integrated care experiences.
I've often said our nurses and caregivers at Sentara are intelligent and compassionate while focused on delivering high quality, safe care. I'm proud to work with so many talented and dedicated individuals, and I am proud of the promise we fulfill to care for the communities we serve.
Our mission to improve health every day is a journey that is ongoing. We will always face challenges, but we are always stronger together. Together, we stand "Rooted in Strength."
From the bottom of my heart, thank you, and happy Nurses Week!
By: Kelly Kennedy
---