Beyond Cancer Foundation launches personalized brick campaign to honor community members affected by cancer
Dedicated bricks to be displayed at the Sentara Brock Cancer Center healing garden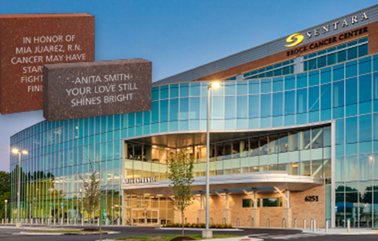 Diane Kesterson originally thought her stomach issues were a side effect of stress. The elementary school teacher was juggling school, family, and taking a graduate course in gifted education. After the pains became so severe she decided to follow her doctor's advice to get a colonoscopy.
"At age 45, five years before most people are even supposed to have their first colonoscopy screening, I learned I had stage three colon cancer," Diane said. She was stunned. Diane had surgery to remove part of her colon and intense chemotherapy. Eventually, there were no more signs of cancer in her body.
Now, more than 20 years after her diagnosis, one of the first commemorative bricks to be installed in the Sentara Brock Cancer Center healing garden will be dedicated to Diane's healing journey. Diane's brick will read, "Have faith and believe."
"One must believe in something greater than yourself to fill your soul, calm your fears, and increase your trust," Diane said. "Cancer is a giant that cannot be fought and won alone. It takes a team to fight the Goliath and win! Before the opening of the Sentara Brock Cancer Center, folks like me were left on their own to navigate through uncharted territory. Now everything will be under one roof. The Sentara Brock Cancer Center brings faith and hope to the Hampton Roads area!"
The Beyond Cancer Foundation has launched a community brick campaign to help provide new, innovative and collaborative services at the Sentara Brock Cancer Center. Bricks will be displayed along the outdoor healing garden to memorialize those in our community affected by cancer. People can purchase personalized bricks to celebrate cancer survivors, honor a loved one, recognize a caregiver who supported their journey, or any other dedication of their choice. This fundraising initiative will provide our community with the opportunity to leave a lasting legacy on the Sentara Brock Cancer Center. Personalized bricks will be on display at the cancer center's healing garden – an outdoor space dedicated to tranquility and peace.
"Our community brick campaign is an opportunity for patients, caregivers and loved ones to be a part of the new Sentara Brock Cancer Center and strengthen their own healing journey," said Cindy Allen, Vice President of the Oncology Service Line at Sentara Healthcare. "Each brick will tell a story and provide hope and inspiration to all. The healing garden will be a place for the community to reflect and remember their loved ones and those who supported them during their cancer journey."
Cancer is a disease that affects every person in our community. One out of every two adults will be diagnosed with cancer in their lifetime and chances are you or a loved one have already experienced the emotions and questions that come from such a diagnosis.
Community members interested in purchasing a dedicated brick can visit the Beyond Cancer Community Brick Campaign website. Bricks are available to purchase at any time and are displayed in the healing garden.
The Sentara Brock Cancer Center is a 253,000 square-foot facility and regional hub for the Sentara Cancer Network. The cancer center officially opened to patients on June 1, 2020. A virtual tour of the Sentara Brock Cancer Center provides an inside look and more information about its services and patient care at www.SentaraBrockCancerCenter.com.
By: Kelly Kennedy
---