Cancer During COVID; One Womans Journey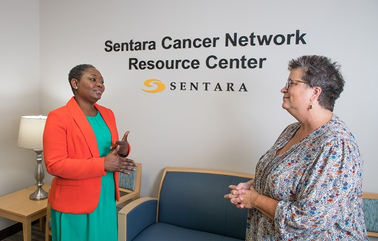 It's estimated that one in 8 women will develop breast cancer in her lifetime. For Adwoa Bonsu, it happened to her in 2009 when she was just 35 years old. Adwoa was diagnosed with Stage 2 Breast Cancer. After removal of her right breast in April of 2009, Adwoa was on the mend and life returned to normal. So, when she felt a lump in her left breast in January 2020, she was panicked.
"I was scared and worried. As time went on, the lump started getting bigger and bigger," says the now 45-year-old.
In May 2020, at the height of the COVID pandemic, she decided to get answers, "I decided to get a mammogram to find out if it was cancerous. I was getting my hopes up because I thought I was cancer-free after 10 years," says Adwoa.
Through the Mother of Mercy Free Clinic, Adwoa was eventually able to get a diagnostic order for a mammogram.
"I had a mammogram and then a biopsy. The lump was determined to be cancerous and aggressive. Right then and there, I became scared. I had no hope because I didn't know how I was going to get treatment," she remembers.
The Mother of Mercy Free Clinic referred Adwoa to Dr. Jeffrey Sinclair of Sentara Surgery Specialists.
"Dr. Sinclair was really nice and talked me through details of my diagnosis and treatment. What really registered with me about Dr. Sinclair was when he said, 'We are going to take good care of you, so don't worry.'"
During the course of her first meeting with Dr. Sinclair, she met Nurse Navigator Heather Byrne. Heather introduced herself to Adwoa and asked to join the consultation.
"I don't know what I would have done without her," says Adwoa, "She's been amazing and a Godsend."
Sentara Northern Virginia Medical Center offers Nurse Navigators as a free service to help its patients. Nurse Navigators help patients "navigate" through the sometimes confusing process of a cancer diagnosis and the appointments, tests, and procedures that follow. Nurse Navigators, like Heather, are there for the patient every step of the way.
"The name "Navigator" says it best," explains Heather, "Many people feel lost trying to figure out how to get the care they need and from whom and when and what they need to do next. When you get a diagnosis of cancer, it becomes even harder. My job is to help make it easier. So I navigate people through the maze of making appointments, understanding the scary words, anticipating the next steps, identifying needs & finding resources both during treatment and after."
Adwoa says Heather's help was invaluable, "She helped me access all the available resources. Without her, I don't think I would have been able to go through all of my treatments. She gave me HOPE. I always feel like I am her only case -which I know I'm not, but that's how amazing she is! I really appreciate her."
Dr. Sinclair met with Adwoa and referred her to Chairman of the Breast Program Leadership, Oncologist Dr. Geoffrey Moorer, and Co-Chairman of the Women's Health Center, OB/GYN Dr. Richard Jenet.
Over the next few months, it was a whirlwind of doctors' appointments and exams. Adwoa had CT scans, MRIs, and repeated blood tests. Her comprehensive team of health providers was able to create a specialized treatment plan that took her cancer and history into account.
On October 22, 2020, Adwoa had her first chemotherapy in the Infusion Center at Sentara Northern Virginia Medical Center.
"Everyone at the infusion center was amazing. They were patient, caring, and went above and beyond to make sure I was always comfortable at every appointment. I'm grateful to them," she remembers.
Chemo sessions continued into April 2021. As chemo ended, Adwoa was scheduled for surgery in mid-May. Dr. Sinclair removed Adwoa's left breast and plastic surgeon Dr. Azra Ashraf implanted expanders for eventual reconstruction.
"Sentara Northern Virginia Medical Center is the best. Their care teams are all amazing," says Adwoa, "I recommend all of my care team at Sentara because they are the best. They have given me the best of care I could ever ask for and the hope to live."
It has been a long road, but Adwoa continues to move forward, "As of now, I'll be on chemo pills for the next year. Eventually, after a year, I'm hoping and praying to be cancer-free."
Early detection is your best protection against breast cancer. Schedule your mammogram today by calling 703-523-1560 or make an appointment online at sentara.com/mammogram.
Learn how Sentara Healthcare can help you by calling the Sentara Cancer Network Resource Center at 703-523-1599 or visit: sentara.com/cancer.
By: Susan Bahorich
---