Celebrating a 30 Year Milestone for Heart Care in Virginia Beach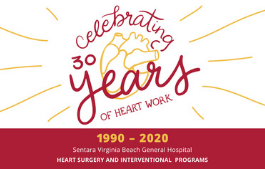 This November marks the 30th Anniversary of the first open-heart surgery and interventional procedure at Sentara Virginia Beach General Hospital.
The program began in 1990 with a dedicated team and a four-bed ICU. By 1995, more than 1,000 cases had been completed, and today the Heart Center at Sentara Virginia Beach General has completed more than 20,000 cardiac interventional and over 4,000 cardiac surgical procedures.
"It's important to look back to celebrate and recognize the significance of this milestone," said Elwood "Bernie" Boone, III, President of Sentara Virginia Beach General Hospital. "Looking back gives us inspiration as we move forward and build on that strong legacy and foundation to continue to innovate."
When a patient experiences a heart event, access to timely care can be life-saving. When every second counts, it is critical for Virginia Beach to have heart care expertise close to home.
Access to cutting-edge care is a hallmark of the Heart Center. Over a 30-year legacy, the heart team has overseen the adoption of drug-eluting stents, an early 2000s innovation in addressing blockages in the heart, as well as advances in timely treatment. The team collaborated with local emergency medical services to capture EKGs in the field, so care can begin more quickly, and each member of the heart care team commits to arrive at the hospital within 30 minutes of being called in to ensure timely treatment.
"Our community has the highest level of care right here in their own backyard," said Dr. Deepak Talreja, Director of Cardiology at Sentara Virginia Beach General Hospital. "90 percent of what's done in cardiology can be done here. We're doing open-heart surgery, valve replacements, pacemakers all here at Sentara Virginia Beach General."
According to Dr. Talreja, the success of the Heart Center at Sentara Virginia Beach General propels the success of Sentara Heart Hospital and vice versa. Very often, clinicians work with patients at both facilities for the highest quality care across the entire region.
"One of the exciting things about Sentara Virginia Beach General right now is the focus on making tangible investments," said Dr. Joseph Newton, Clinical Chief of Sentara Mid-Atlantic Cardiothoracic Surgeons. "From hiring to facilities, we are taking this program into the next generation."
---