Colon cancer survivor now leading Health Equity Program at Sentara Healthcare
Colon cancer is one of many health disparities recognized in Hampton Roads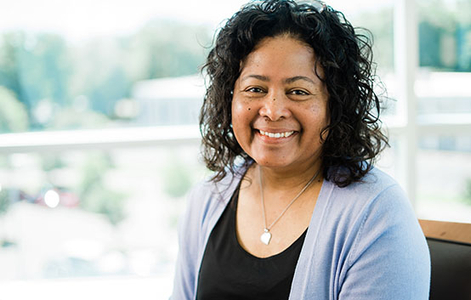 Iris Lundy, RN, BSN, was working in the Accreditation and Regulatory Department at Sentara Healthcare when she started feeling sick. She remembers one day while at Sentara Norfolk General Hospital, she could barely walk down the hallways without holding onto the walls for support.
"I know my body and I knew that something was wrong," Iris said. "I went to several different doctors, had many hospital visits and tests done before I found out what was really wrong with me."
Iris was diagnosed with colon cancer in 2012. It came as a shock to Iris, who had no family history of the disease.
"It just wasn't on my radar," Iris said. "I only had basic knowledge of what colon cancer even was."
Colon cancer, also known as colorectal cancer, is a type of cancer that begins in the large intestine (colon) and can spread to other parts of the body. According to the American Cancer Society, colon cancer is the third leading cause of cancer-related deaths in men and in women in the United States.
Thankfully, Iris' cancer was caught before it spread. With the help of the Sentara Cancer Network, Iris had the cancerous tumor removed, along with 12 inches of her colon. In late 2012, Iris was declared cancer-free! She still receives regular colonoscopy and blood tests to make sure cancer has not returned.
Now, as an 8-year cancer survivor, Iris is Director of the Health Equity Division at Sentara Healthcare. The division was formed in 2019 with the goal to identify and remove barriers so people can receive the care they need. Iris and her team identify health disparities in our communities and research the possible causes. This includes chronic health issues such as hypertension, diabetes and the high rate of cancer deaths in minority communities.
Research shows there is a racial disparity in colon cancer. Since 1960, colon cancer mortality has decreased by 39% among whites but has increased by 28% among blacks, according to the World Journal of Gastroenterology.
Shocking statistics like this one continue to drive Iris to search for answers in the Hampton Roads community.
"Looking at the data we see where there are differences in health," Iris said. "Now we are trying to discover the root causes and why there are such differences."
The Health Equity team will look at economic status, access to health care, transportation and other social determinants of health to identify potential causes of health inequity in our community. They will work in partnership with community physicians, organizations, and all Sentara facilities to achieve more equitable health care.

"Your genetic code is not as important as your zip code. The literature says that. It's a fact," Iris said. "People concentrate on providing equal care but it's not equal care that we need, it's equitable care."
Improving the health equity in cancer treatment is a large focus of the new Sentara Cancer Center, on track to open in spring 2020. The new cancer center will include resources to support more than a person's medical needs, but their overall life success. The Sentara Cancer Center will have nutrition and financial counseling, education classes, peer mentor support groups and beauty, and wellness programs.
By: Kelly Kennedy
---