Community Collaboration Stresses the Importance Health During Flu Season
Joint Statement urging Greater Prince William area to get Flu Vaccinations and Seek Care as COVID-19 Pandemic Remains a Public Health Threat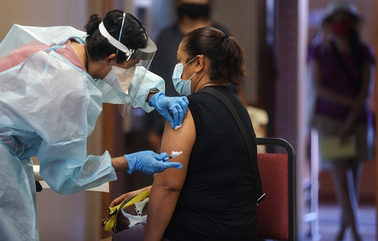 Endorsed by City of Manassas, City of Manassas Park, Novant Health UVA Health System, Prince William Chamber of Commerce, Prince William County Government, Sentara Northern Virginia Medical Center and Virginia Department of Health (VDH)-Prince William Health District, Greater Prince William County leaders and healthcare officials have banded together in an effort to stress the importance of community health as Virginians head into flu season. According to the Virginia Hospital & Healthcare Association, it's estimated at least 39 million Americans became ill during last year's flu season leading to 18 million medical visits, 410,000 hospitalizations and at least 24,000 deaths.
In an effort to spread this message to our communities and stakeholders, leaders from each organization recorded messages about the importance of flu shots and getting medical attention during COVID-19. These messages, recorded in both English and Spanish, are being distributed and shared through social media and health agencies to reach every segment of the community and keep them safe and informed.
Doctors say it's critical people get their flu shot this year during the pandemic. The CDC warns with more than 200,000 COVID-19 related deaths already in the United States, another respiratory illness could increase the chances of residents catching both diseases at once. In addition, flu symptoms are very similar to those of COVID-19. Both viruses are more severe for the elderly and those with underlying medical conditions. Getting a flu shot to prevent the flu will allow healthcare professionals to better manage the COVID-19 pandemic, save thousands of lives and preserve health care resources.
Get your flu shot today by visiting your primary care provider's office. Area drugstores and pharmacies are also offering flu shots, generally covered by insurance. For more information, visit
sentara.com/getcarenow
By: Susan Bahorich
---