Resources for families impacted by the infant formula shortage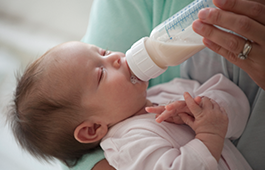 Sentara Healthcare is committed to serving our most vulnerable community members during the worldwide shortage of baby formula. We are here to be a resource during this stressful time for parents. Our resources include medical assessments of newborns and infants should your baby's needs escalate to a medical crisis.
Here are printable flyers of resources and guidance on the infant formula shortage:
The guidance below is changing rapidly and we offer these ideas only as potential resources. We cannot guarantee assistance from any agency or organization listed.
1) Read this fact sheet from the American Academy of Pediatrics: Infant Formula Shortage: Tips on what to do when you can't find formula at the store.
2) Contact your pediatric care provider for potential resources.
3) Check Facebook. There are groups online connecting those who have formula and no longer need it with those who are in need.
4) If you have WIC, please contact your local WIC office (www.signupwic.com) to identify or obtain additional sources of infant formula nearby.
5) COSTCO, Sam's Club, BJs, Target, Walmart, and Dollar stores may have formula at different times. Also look at chain and locally owned pharmacies.
6) If breastfeeding is an option or you wish to re-establish breastfeeding and need additional support, contact the lactation consultants at the hospital where you had your baby:
Sentara Breastfeeding Hotline for Southside Hampton Roads Hospitals (SNGH, SLH, SPAH): 757-388-MILK (6455)
Sentara Albemarle Medical Center Lactation Consultants: 252-384-4348
Sentara CarePlex Hospital Lactation Consultant: 757-736-0278
Sentara Halifax Regional Hospital: 434-517-3337
Sentara Martha Jefferson Hospital Family Maternity Center: 434-654-8440
Sentara Obici Hospital Lactation Consultants: 757-934-4059
Sentara RMH Medical Center Family Maternity Center: 540-689-3320
Sentara Northern Virginia Medical Family Maternity Center: 703-523-0582
Sentara Williamsburg Regional Medical Center Lactation Consultants: 757-984-7299
7) Gerber's infant nutrition helpline (phone, text, web chat, etc.): https://www.gerber.com/mygerber-baby-expert
8) Abbott's Consumer Hotline: call 1-800-986-8540
9) Abbott's urgent product request: Your OBGYN or Pediatrician will need to fill this out: https://static.abbottnutrition.com/cms-prod/abbottnutrition-2016.com/22-PSN_C_Urgent_Product_RequestForm_FA04a.pdf
10) Enfamil: 1-800-BABY-123 (1-800-222-9123)
11) Contact an accredited milk bank. Some are able to sell pasteurized breast milk with a prescription. The Hampton Roads region's milk bank is at Children's Hospital of The King's Daughters: 757-668-6455
You can switch brands of formula! Every formula is made slightly differently but the essential elements are similar. Try to stay within the "type" of formula your baby uses to avoid stomach upset and nutritional issues. Speak with your pediatric care provider if you are unsure how to switch. Here are some Comparable formulas:
Cows'-milk based ("regular formula")
Earth's Best Gentle Formula
Enfamil Newborn, Infant, or Reguline
Good Start Gentle
Similac Pro-Advance – when available from manufacturer
Store brand Advantage Infant Formula (Walmart, Target, Kroger, Walgreens, CVS, Meijer, Sam's Club, Amazon, Costco)
Soy-based ("soy formula")
Earth's Best Organic Soy
Enfamil Prosobee
Good Start Soy
Similac Soy Isomil – when available from manufacturer
Store brand Soy Infant Formula (Walmart, Target, Kroger, Walgreens, CVS, Meijer, Sam's Club, Amazon, Costco)
Sensitive
Earth's Best Gentle
Enfamil Gentlease
Good Start Soothe Pro
Similac Sensitive – when available from manufacturer
Store brand Sensitive Infant Formula (Walmart, Target, Kroger, Walgreens, CVS, Meijer, Sam's Club, Amazon, Costco)
Hypoallergenic/Hydrolyzed
Gerber Extensive HA
Nutramigen
Pregestimil
Similac Alimentum
Store brand Hypoallergenic Infant Formula (Walmart, Target, Kroger, Walgreens, CVS, Meijer, Sam's Club, Amazon, Costco)
Amino-based (for severe allergies and certain specific syndromes)
Younger than 1 year
Alfamino Infant
Elecare Infant
Neocate Infant
Neocate Syneo
Puramino DHA & ARA Infant
Alfamino Jr
Equaquare Jr
Essential Care Jr
Elecare Jr
Neocate Jr
Neocate Splash
Puramino Jr
Please DO NOT Water down your formula – it can give babies diarrhea and cause them to become dehydrated and lose weight. You're limiting, and possibly taking away, any good the formula you have now can do for your baby.
Please DO NOT Use adult products such as Carnation Instant Breakfast or the very old formula of nonfat dry milk and Kayo Syrup with water. They do not have the nutrition your baby needs. They can increase the risk of bacteria, fungus, and other contaminants and cause diarrhea and other illnesses.
We understand a shortage in formula can provoke anxiety and that you may need to look for alternative resources. To avoid potential harm to your baby, PLEASE check with your pediatric care provider about any alternative formulas you are considering other than a brand name formula that meets your baby's nutritional needs.
If you need support managing stress and anxiety during this time, Postpartum Support International (www.postpartum.net) is available 24/7. You can call or text the helpline number: 1-800-944-4773.
By: Kelly Kennedy
---