Safety Care Partner marks 60 years with Sentara Albemarle Medical Center
Anniversary includes surviving COVID-19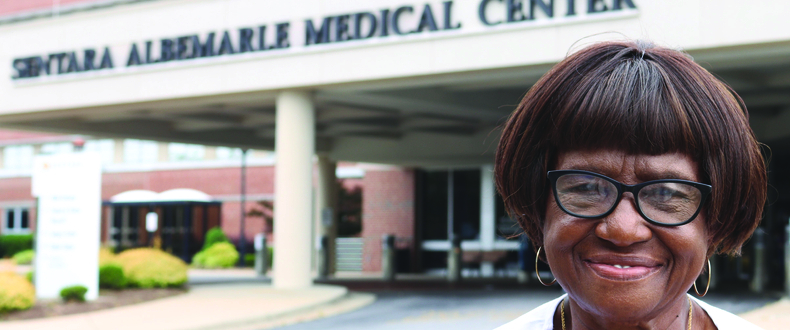 Willie Mae Overton has lived through Jim Crow and survived COVID-19 to become the longest serving employee of both Sentara Albemarle Medical Center and Norfolk, Va.-based Sentara Healthcare. She went to work for the former Albemarle Hospital in environmental services on May 26, 1961 when it was still racially segregated. The integration process had begun, however, and within two years she had transitioned to a Certified Nursing Assistant role, in which she accompanied doctors on rounds and transcribed notes. That led to her first career change.
"They told me my handwriting was beautiful," Overton recalls, and she was offered a secretarial course at College of the Albemarle next door. Upon graduation, Overton says, "I was the first Black person with an office job."
She took retirement after 30 years but came back part time as soon as the rules allowed and has been working ever since. Sentara took over the hospital in 2014 under a lease with the owner, Pasquotank County, NC. A reorganization in 2017 eliminated some secretarial positions and Overton took advantage of the Sentara Priority Retention program to take on another new position as a safety care partner. She sits with high risk patients who need one-on-one attention, including psychiatric patients, those at risk for falls and anxious patients who try to pull out lines and leads.
"You'd be surprised how many people just want to have a conversation," Overton says. "I'm a talker." Her longevity in the community and gift for making connections have served her well in the role. "Chances are I know somebody they know."
Overton's daughter and niece both work in registration at the hospital and she estimates at least 15 relatives have worked there over the years, including her parents, who worked at the original hospital downtown before the 1961 relocation to the current one.
Due to her age (almost 82) and COVID-19 risk factors, Overton has been away from work since March of 2020 but retains her part time flex position. She was diagnosed with COVID-19 in December, though her symptoms were mild. She says the most notable was losing her sense of smell. Out of an abundance of caution, she quarantined at home for the whole month.
Overton has been witness to a sea change in care delivery at the hospital; from hand written patient records on carbon paper sets to electronic medical records connected to the Sentara system, from basic x-rays to CT-scanners, MRIs and 3-D mammography and designation of the hospital as a primary stroke center.
"We're able to do more," she says, "and the new technology requires more skills."
Overton says she's ready to return to work soon. "It's like family here," she says. "I like what I do. I love to meet and greet people and God has blessed me with good health."
She says one residual effect from COVID-19 is occasional weakness in one of her legs, but she believes walking the halls will be good for her and she has no plans to retire again. "Not 'til God retires me," she chuckles.
By: Dale Gauding
---