Sentara becomes first non-profit to win a Darden Award from the CIVIC Leadership Institute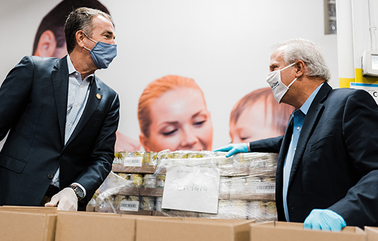 Sentara Healthcare has been named one of two honorees for the 2021 Darden Awards. The Darden Award a prestigious annual recognition given by the CIVIC Leadership Institute (CIVIC) to one corporation and one individual for exceptional service to the community through board service, volunteerism and other community engagement that improves the quality of life for those living in Hampton Roads.
Sentara is the first not-for-profit corporation to receive a Darden Award. Past corporate honorees include Kaufman and Canoles, Ferguson, Dollar Tree and Norfolk Southern.
Sentara's win recognizes of the organization's mission to improve health every day as embodied by the launch of the organization's corporate social responsibility program (Sentara Cares) and extensive community partnerships that address health inequities and social determinants of health, as well as the health system's response to the COVID-19 pandemic.
"A deep commitment to the communities we serve has Iong been a part of Sentara's DNA, but the recent pandemic has made this commitment more vital than ever," said Sentara Healthcare President and Chief Executive Officer, Howard P. Kern. "Our eyes have always been open to these systemic inequities, which is why we made addressing them the focal point of the Sentara Cares program. That foresight allows us to rise to the real-time challenges of the COVID-19 pandemic, forge new partnerships, strengthen long­ standing relationships, and marshal resources to build stronger, healthier, more equitable communities."
In addition to corporate initiatives, Sentara leaders and employees also volunteer significant time and resources to organizations and causes that promote well-being for the community.
We are proud to be a 2021 Darden Award recipient and look forward to continuing our work to support the communities we serve.
About the Darden Awards:
Established in 2005, the Darden Award for Regional Leadership is named for CIVIC Leadership Institute's Founder Emeritus, the late Joshua P. Darden Jr. Each year, CIVIC presents the award to an individual and a corporation whose contributions and service have made significant impacts in the Hampton Roads community.
About CIVIC Leadership Institute:
CIVIC Leadership Institute is a nonprofit organization based in Hampton Roads, Virginia. For the past 25 years, it has connected executive leaders through service to improve life in Hampton Roads.
By: Lauren Patton
---