Sentara breaks ground on new Sentara Albemarle Medical Center
Replacement hospital to open in 2024. Medical office building under construction and slated to open early in 2023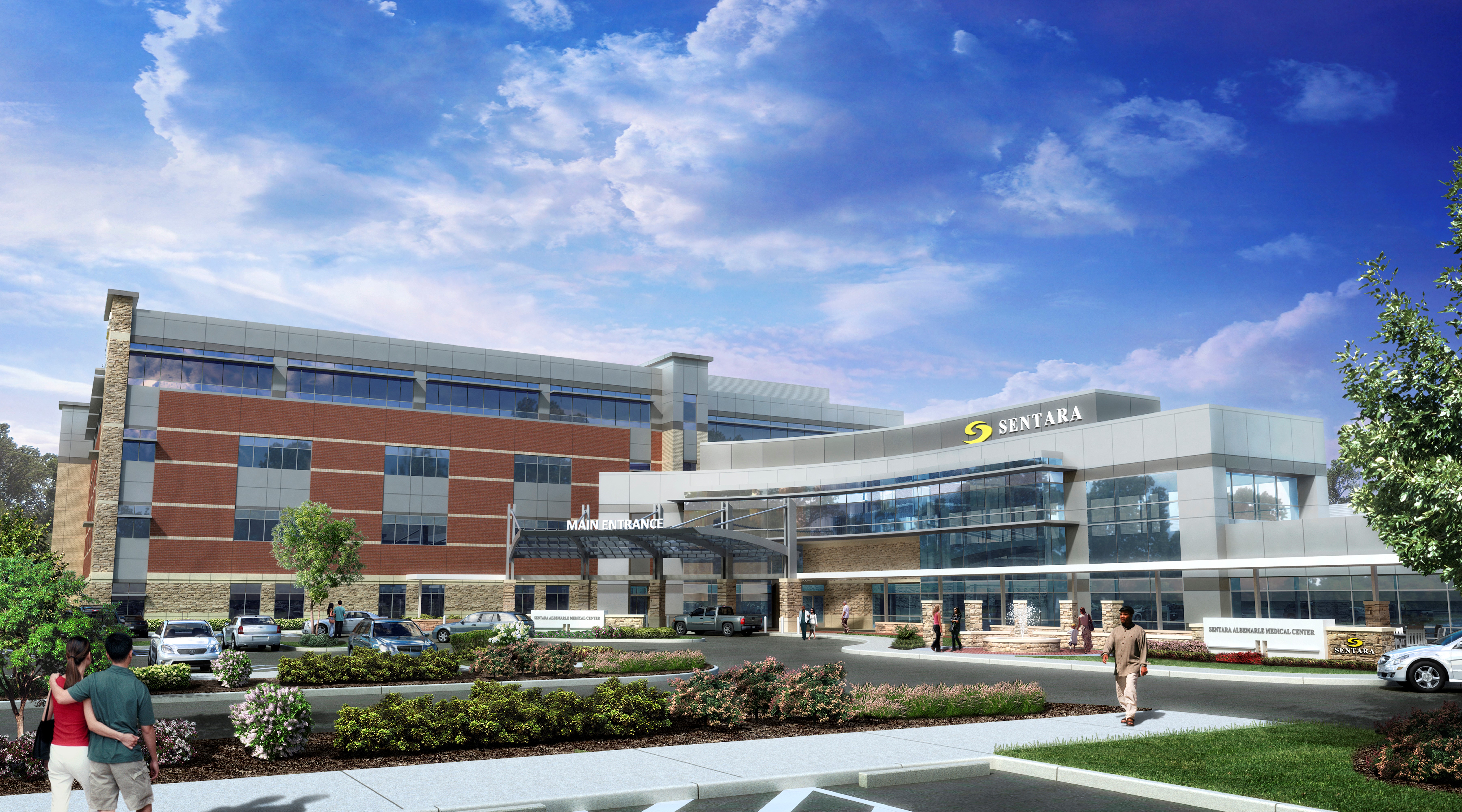 Sentara Healthcare has broken ground on its new Sentara Albemarle Medical Center, a state-of-the-art 88-bed hospital to replace the current 60-year-old facility on North Road Street. The new hospital will adjoin a 60,000 square foot medical office building, which is currently under construction and slated to open early next year. The 135-acre campus, coming out of the ground at Halstead Boulevard Extended and Thunder Road, will be known as the Sentara Albemarle Regional Health Campus. It is projected to cost about $200 million, up from the original estimate of $158 million, due to sharp spikes in costs for building materials and medical equipment.
"This new hospital will look nothing like the current one," said Phillip Jackson, president of Sentara Albemarle Medical Center in prepared remarks. "It will be modern, efficient and reflect the current trends in health care. Just since we started planning this facility, the health care landscape has changed drastically. Surgeries that used to require days in the hospital are now outpatient procedures. Primary care visits are being done virtually. Patients can stay home, or check-in with their doctor during their lunch break at work. It's been amazing to watch this trend develop over a short amount of time."
The project includes a new linear accelerator to provide radiation therapy with pinpoint accuracy, and improved connectivity to medical specialists through a new digital hub. The new hospital is designed to grow with the community and new techniques and technologies.
The new hospital, designed by Innovate Architecture of Norfolk, will feature a high-efficiency, patient-centric layout representing the trend toward preventive care, outpatient services using remote technologies and minimal hospital stays. "This approach to care is turning out to be better for our patients, who enjoy better outcomes, and it helps bend the cost curve downward," Jackson added.
"We're looking at this innovative model as an incubator for the rest of our system," said Howard P. Kern, president & CEO of Sentara Healthcare, who is retiring this year after 42 years with the company. "Our customer focused model of care is built for a lifetime. I appreciate local history connected to the current hospital, and I have no doubt this new campus will join that tradition and remain an integral part of the Sentara mission, with our long tradition of quality and patient safety."
Sentara and Pasquotank County previously announced a settlement plan for Sentara's 30-year lease on the current county-owned hospital. Sentara took over operations in March 2014 after winning a public bidding process. As part of the lease settlement, Sentara has placed $38M in an escrow account until the new hospital is open and operating.
After the move to the new hospital and completion of the lease settlement, Pasquotank County will retain ownership of the current hospital site and will consider redevelopment options along the Road Street Corridor.
The new health campus is the first large-scale application of the Sentara commitment to diversify its supply chain activities. The initiative is designed to help small, local businesses owned by women, minorities and veterans gain access to the Sentara bidding process so they can help develop the campus and service it long-term. Primary contractor Whiting-Turner has partnered with Elizabeth City State University's Small Business Technology Development Center to help area small businesses qualify to bid successfully, to participate in the broad-based economic activity the new campus will generate. Sentara supply chain received the 2022 Regional Business of the Year award from the Carolinas-Virginia Minority Supplier Development Council for its ongoing commitment to diversity.
By: Dale Gauding
---