Sentara Cares donates more than $497,000 to area programs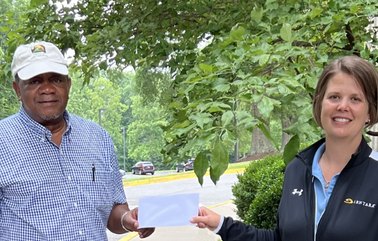 Sentara Halifax Regional Hospital is pleased to announce grants totaling more than $497,000 have been awarded to programs, foundations, and groups within the community over the past 12 months. This is a part of the nearly $5 million in funding that Sentara Healthcare gave to 71 partner organizations throughout Virginia and North Carolina. In all, nine organizations focusing on the health and wellness of area residents were honored.
The grants are part of Sentara Healthcare's commitment to strengthening communities through its "Sentara Cares" program.
Sentara Cares focuses on advancing health equity and ensuring all members of the communities we serve have access to the resources they need to live their healthiest and most fulfilling lives.
While Sentara Halifax Regional Hospital provided $5 million in uncompensated care & community benefit/giving in 2021, these donations are unique as team members were able to weigh in on where some funds would be spent.
"Charitable organizations are essential to the health and wellbeing of the community. We are honored to be able to partner with them and support the incredible work that they do. We look forward to collaborating with additional charitable organizations in the future to further meet the needs of the communities we serve," explains Brian Zwoyer, President, Sentara Halifax Regional Hospital.
This means, in addition to the traditional grant application process, charitable organizations which held a special place in the hearts of team members will receive an unrestricted grant. Those grants are denoted by an "*" in the list below.
Healthy Families Program: $100,000
Tri County Community Action Housing Project: $115,000
Southside Outreach Group: $92,000
Halifax/South Boston Library – Dolly Parton Imagination Library: $5,000
Racing for Heroes: $65,000*
Serving Hope – Food Pantry: $55,000*
Southside Behavioral Health: $35,000*
YMCA- South Boston: $15,000*
Tri River Habitat for Humanity: $15,000*
This year's recipients reflect a variety of organizations. From those which educate children and empower families to those that provide safe housing for those in need; people from all walks of life are recognized.
"We approach every community and every partner with our ears and our hearts open. We're not here to provide prescriptive solutions. We're here to support and amplify the work of our partners in every way we can to improve more lives and inspire more hope for the future," explains Sherry Norquist, MSN-RN, Director of Community Engagement & Impact.
The hope is these gifts help validate and reinforce the tremendous time and energy area programs and foundations have put into making our community a better place every day.
To learn more about the Sentara Cares program, visit sentaracares.com.
By: Joni Henderson
---