Sentara Celebrates Diversity and Inclusion Achievements during National Diversity Week, Calls for Collaboration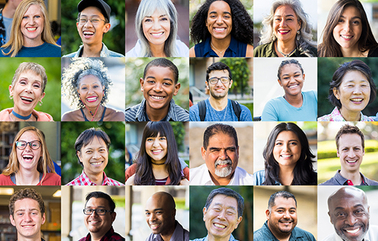 Sentara Healthcare has always been committed to improving health every day, for all people.
"At Sentara Healthcare, we have long prided ourselves on the diversity of our colleagues, our inclusive environment and the work we do to support our equally diverse communities," said Howard P. Kern, President and CEO of Sentara Healthcare.
October 5 – 9 is National Diversity Week. Sentara is pleased to share updates on the work they have done since mid-2019, when the organization solidified that commitment by establishing a Diversity and Inclusion program headed by Dana Beckton, Sentara's first Chief Diversity Officer.
The Diversity and Inclusion team wasted no time partnering with leaders across all of the health system's divisions and regions, developing and implementing strategies and initiatives to ensure that Sentara's workforce reflects the communities we serve, and that all people who interact with Sentara know they are safe, welcome and valued.
"I want everyone to know that they can bring their authentic selves to Sentara, whether they are our employees, patients, members or those we partner with in the community. Better healthcare starts with healthier people, and that means making sure everyone feels secure and supported," Beckton said.
In just over a year, Sentara:
Created internal policies, guidelines, and toolkits to ensure the protection of LGBTQ patients' and employees' rights and promote transgender inclusion in the workplace. All twelve Sentara hospitals earned 2020 LGBTQ Healthcare Equality Leader status in the Healthcare Equality Index from the Human Rights Campaign.
Formed essential partnerships with key organizations including the Urban League, Minority Business Commission, Women's Business Enterprise National Council, National Hispanic Medical Association, the Hampton Roads Diversity & Inclusion Consortium, and others.
Partnered with Sentara's Health Equity program in collaborating with local community and faith-based leaders to offer free COVID-19 testing to over 14,000 people in underserved communities.
Began establishing Diversity and Inclusion Councils at all twelve Sentara hospitals. In addition, Howard P. Kern, president and CEO of Sentara Healthcare, chairs the system-wide Executive Diversity and Inclusion Council.
Earned a 2020 Best Employers for Women designation from Forbes.
"We are proud of the work we have done so far, and know there is always room to do more," said Becky Sawyer, Chief Human Resources Officer for Sentara Healthcare. "In focusing on initiatives that support diversity, inclusion, and equity, we are sending the message that all three are facets of healthcare and wellbeing."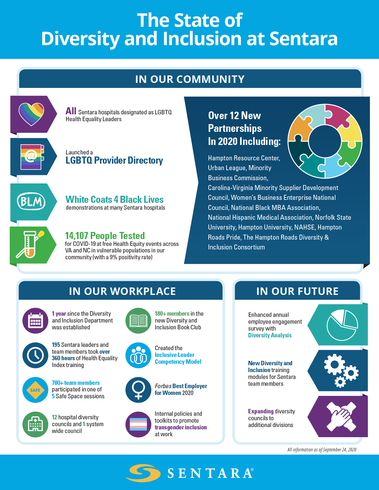 See what else Sentara has been doing in our communities and in our workplace.
Diversity and inclusion are not end-goals; they are active, on-going commitments.
Although Sentara is highlighting their accomplishments during National Diversity Week, leaders want to remind others that the journey toward inclusion, diversity and equity is an evolving one.
"The strategies we are putting in place are active, on-going commitments that take effort and persistence," said Kern. "We are continuing to identify ways to ensure Sentara and the world we live in are better and safer places for everyone."
See what Sentara is working toward in our future.
Beckton also wants others to understand that creating inclusion and equity is a commitment that requires everyone's participation. She says creating an inclusive environment does not happen in a vacuum. It takes everyone – employees, patients, members and other community leaders – continuously working together. Sentara is committed to fostering new partnerships with other organizations and community leaders to make a broader public impact.
"Just like we collaborated with other organizations to offer creative solutions for tackling issues presented by COVID-19, my hope is that others will join us in tackling the issues of racism, sexism, genderism, ableism, classism, and all the other '-isms' that create barriers to wellbeing for our families, friends and neighbors," Beckton added.
By: Lauren Patton
---