Sentara Celebrates National Cancer Survivors Month
Survivors and thrivers are invited to share their #BeyondCancer story on social media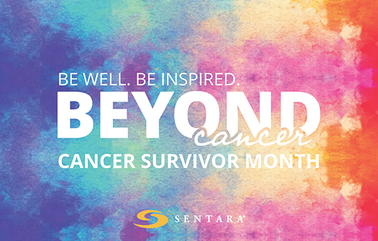 What can you do to support the cancer survivors in our communities? Show them how much you care.
In honor of National Cancer Survivor's Month, the Sentara Cancer Network has launched a new website with resources and downloadable graphics to support cancer survivors and those who are currently in treatment. A person is a cancer survivor from the moment they receive their first diagnosis, throughout the rest of his or her life.
National Cancer Survivor Month is dedicated to celebrating the survivorship of every person who has heard the dreaded phrase, "you have cancer." 1 in 2 women and 1 in 3 men will become a cancer survivor in their lifetime, according to the American Cancer Society.
But, there is hope. From 1991 to 2018 the cancer death rate has dropped 31%. This means there are more cancer survivors thriving in our communities now than ever before.
We want survivors to celebrate their achievements, big or small, along their cancer journey. Sentara Healthcare is encouraging all cancer survivors to share their story throughout the month of June to bring awareness to how they are living beyond cancer.
Join The Celebration.
Here is how you can celebrate and support cancer survivors on www.sentarabeyondcancer.com:
Post on social media using the hashtag #BeyondCancer.
Update your Facebook profile picture with the #BeyondCancer profile picture frame
Download and send the #BeyondCancer e-card to survivors, fighters, family and friends.
What is #BeyondCancer? Beyond Cancer is a way for survivors to emphasize their life beyond diagnosis and treatment. Life beyond cancer is possible - let's celebrate what that means for you and inspire others who may need it!
Hear from Survivors and Experts.
Visit the Sentara Healthcare Facebook page to watch our Facebook Live series. We will share tips and testimonials from survivors and experts.
June 2, 2021 at 12PM | A Survivor's Story: How to Live Beyond Cancer with Frank McKenna, Lung Cancer Survivor and Wellness Beyond Cancer Co-Developer
June 9, 2021 at 12PM | You're Not Alone: Navigating Your Cancer Journey with Clayres Johnson BSN, RN, CBCN Oncology Nurse Navigator and Survivor
June 16, 2021 at 12PM | Celebrating Survivors by Supporting Cancer Research with Thomas Alberico, MD, Virginia Oncology Associates
June 23, 2021 at 12PM | How to Take Control of Your Health and Prevent Cancer with Raffaele J. Marchigiani, MD, Thoracic Surgery, Sentara Surgical Specialists Leigh
June 30, 2021 at 12PM | Why Advancement in Technology is Important for Cancer Survivors with Wylie Zhu, MD, Neurosurgeon, Sentara Neurosurgery Specialists
The Sentara Cancer Network treats more than 9,000 cancer survivors every year and was the first Integrated Network Cancer Program (INCP) in Virginia as designated by the American College of Surgeons Commission on Cancer. Our integrated network of 12 acute care hospitals in Virginia and North Carolina and the Sentara Brock Cancer Center in Norfolk, VA, makes us uniquely equipped to offer advanced treatments conveniently within a patient's community.
By: Kelly Kennedy
---