Sentara celebrates Nightingale's 40th anniversary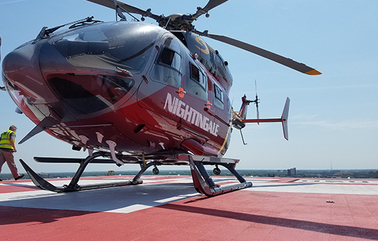 Friday, February 25, 2022, marks the 40th anniversary of Nightingale's first flight in 1982. It was a six-minute trip from Virginia Beach General Hospital (pre-Sentara) to Portsmouth Naval Hospital at the height of rush hour, when driving by ground ambulance could have taken an hour.
Nightingale was only the 38th air medical program in the U.S. and the second hospital-based program in Virginia.
40 years, and more than 24,000 patient flights later, Nightingale remains a model for flight safety and compassionate ICU-level patient care as part of the Sentara not-for-profit mission to improve health every day. Nightingale operates at an annual fiscal deficit as part of its mission focus.
Four aircraft have carried the Nightingale name, including the current Airbus Eurocopter EC-145, purchased in 2011 following a fundraising campaign through the Sentara Foundation, 'Saving Minutes, Saving Lives,' which netted about half of the $7.2M purchased price. This was the first time the program asked the community for assistance.
Since then, the program has moved to a rooftop helipad array at Sentara Norfolk General Hospital with its own fueling station, including a designated pad for Nightingale and one for larger, heavier Coast Guard and Navy aircraft and other air medical visitors. The program has a dedicated dispatch center at Sentara Norfolk General Hospital, partnered with that of Metro Aviation in Shreveport, Louisiana, who operates the aircraft for Sentara under contract. The program has developed nine FAA-approved instrument flight rules (IFR) routes to designated locations in the region, allowing additional flights to meet EMS community partners in poor visibility. Planning is underway for purchase of a new GPS guidance system which will last the life of the current aircraft.
Nightingale developed COVID-19 protocols at the beginning of the pandemic, flew the first known COVID patient in Virginia to definitive care and shared their PPE and aircraft sanitation process with other air medical programs to help them maintain crew and patient safety.
Nightingale flies about 700 missions per year. About half are scene flights for trauma cases and half to other hospitals or EMS sites to transfer critically ill and injured patients to definitive care at the Level I adult trauma and tertiary referral center at Sentara Norfolk General Hospital.
Our four assigned pilots work for Metro Aviation. All have military aviation backgrounds and thousands of hours of experience. Our flight nurses work full-time for Sentara and have long histories as ER or ICU/critical care nurses. Flight paramedics are part-time and most work full-time as firefighters/paramedics for area fire departments.
By: Dale Gauding
---