Sentara Healthcare continues investment in team members with merit pay increases
Part of $125M in pay increases and enhanced benefits announced earlier this year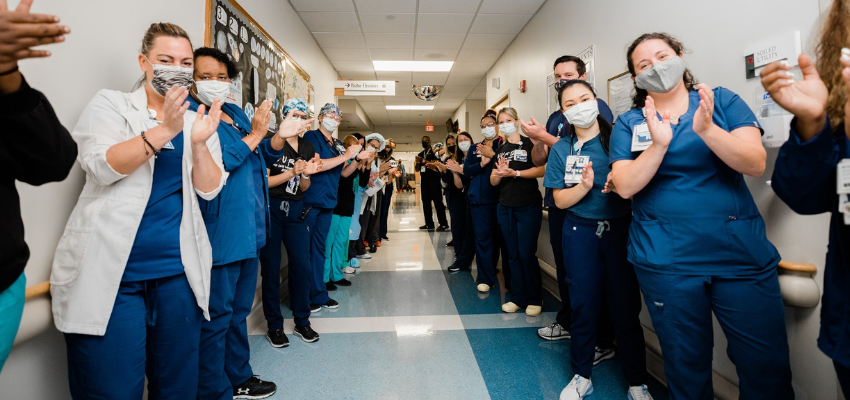 Sentara Healthcare, the Commonwealth of Virginia's largest integrated health system and one of its largest employers, announced today it is implementing a 3% merit pay increase for all eligible team members, up to and including the director level, effective May 22.
This merit increase follows a 5% market pay increase announced in February, and is part of a $125M investment in pay increases and new/enhanced benefits announced earlier this year. In 2021, Sentara invested more than $185 million in team member compensation increases, appreciation gifts and other COVID-related compensation programs. Combined with the raises and benefit enhancements announced this year, the system's added contributions in 2021 and 2022 will total more than $310 million.
"We are proud to be an employer of choice in the communities we serve and are committed to fostering a culture that attracts, retains and engages a diverse, talented workforce," said Sentara Executive Vice President and Chief People Officer Becky Sawyer. "An important aspect of that is investing in our team members with a strong compensation and benefits program that reflects our colleagues' needs, contributions and changes in our markets."
New & Enhanced Benefits in Action
Sentara employees are also now benefiting from a range of new and enhanced benefits announced earlier this year, including reimbursement programs to assist with adoption expenses, infertility care expenses, and surrogacy and gestational carrier expenses; increased paid time off; paid parental leave; short term disability eligibility at 7 days; enhanced sick time eligibility; additional support for family caregivers; and increased educational assistance to support career advancement.
Over 2,000 employees have signed up for the new Student Debt Repayment program which pays up to $400 a month towards their student loans.
More than 3,500 employees with less than one year of service became match eligible when we changed our retirement savings plan matching to begin on day one of employment.
More than 350 team members have used a new floating holiday for personal observances or important holidays that matter to them.
Team Member Perspective: Infertility & Surrogacy Reimbursement
"After my wife was diagnosed with hormone positive breast cancer, we have been working with an infertility clinic to expand our family with a gestational carrier. The new infertility and surrogacy reimbursement program at Sentara has helped relieve some of the stress and financial burden of our infertility journey." – Mike Marra, process improvement manager
Team Member Perspective: Educational Assistance
"I'm going for my bachelor's degree in health science and will be done this October. With Sentara's tuition assistance program, I was able to pay for a good portion of my schooling and it's been extremely easy. The newest education benefit covers up to $5,250 annually for degrees and certificate programs. Once I complete my bachelor's I'll be taking advantage of this to pursue other certifications and specialties." – Tavorius Crocker, respiratory therapist
Team Member Perspective: Paid Parental Leave
"My wife and I had our first baby last year and I used my paid annual leave to spend time with my wife and bond with our new addition. As we look to the future and if we decide to continue to grow our family, it's exciting to know that I'll have four weeks of paid parental leave. I also appreciate the flexibility this new benefit offers since it can be used consecutively or in one-week increments." – Chris Dobbs, manager, marketing analytics
Career Opportunities at Sentara
Sentara continues to focus on recruitment and retention of top talent. The company employs 1,500 more team members than last year but has more than 2,100 positions still available. These are in a wide range of fields, including nursing, therapy, pharmacy, laboratory technology, information technology, human resources, marketing, communications, business analytics, food service, security, billing, and more. Those interested in learning about careers at Sentara should visit www.SentaraCareers.com
By: Peter Sengenberger
---