Sentara creates new care format with opening of retail clinics
Innovative care model is focused on convenience, immediate access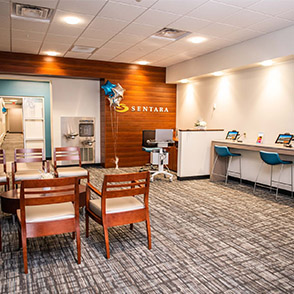 In a world where Amazon and Postmates deliver anything to your door and Uber gets you anywhere you want to go, convenience and immediate access to goods and services is essential. As a result of these changing consumer behaviors, Sentara Medical Group has set its sights on providing an innovative model of care focused on convenience.
Sentara recently opened its first two Sentara Primary Care & Therapy Centers in Virginia Beach. These new clinics offer consumers quick access to primary care and physical therapy in centrally located areas. The team of board-certified primary care providers and physical therapists offer walk-in and same-day care for minor illnesses and injuries, immunizations and physicals.
Since opening its doors near the oceanfront and at The Town Center of Virginia Beach just days before Christmas, Sentara reports it is caring for an average of 65 walk-in patients a week.
"These centers are not meant to be urgent care," said Dr. David James, President, Ambulatory Services. "The clinics were opened to treat common minor conditions for people on the go and placed in high-traffic areas. If you just have a sinus infection or ear ache, come on in and you can be seen quickly. We can commit to quick, convenient care because we only treat low acuity conditions."
"Plus, patients pay their primary care co-pay, so it's much less expensive than urgent care or the Emergency Room," said James.
The Virginia Beach clinics are located at 984 B Laskin Road (Oceanfront) and 4439 Virginia Beach Boulevard (Town Center). The sites are open six days of the week, Monday though Saturday. For hours of operation or to reserve your spot online in advance, visit sentaraprimarycareandtherapy.com.
Additional sites will open soon in Newport News, Chesapeake, Williamsburg and Blue Ridge.
By: Kelsea Smith
---