Sentara donates $150,000 to programs supporting veterans
Funds to be used for housing assistance, suicide prevention programs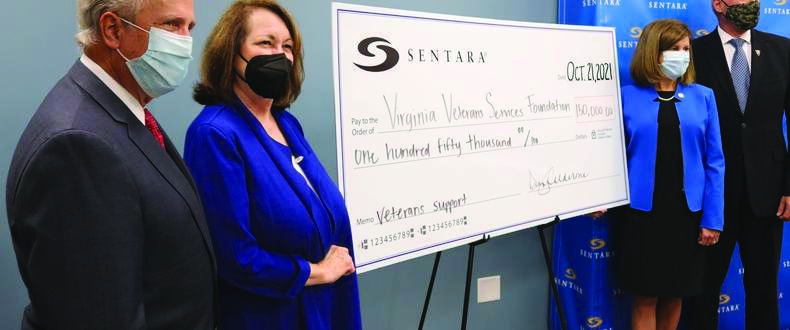 Sentara Healthcare has awarded the Virginia Veterans Services Foundation (VVSF) a $150,000 grant to support programs for veterans and their families. The grant is designated to assist homeless veterans and to support behavioral health initiatives including suicide prevention.
"We greatly appreciate Sentara's long-standing commitment to Virginia's veteran community," said Acting Secretary of Veterans and Defense Affairs Kathleen Jabs. "Not all veterans' needs can be met through government resources," Jabs continued. "Donated funds from businesses, individuals, and community partners such as Sentara help to fill these gaps. This grant will allow us to continue our critical work in veteran suicide and homelessness prevention as part of our effort to ensure that Virginia remains one of the most military-friendly states in the nation."
The Virginia Veteran and Family Support Program (VVFS) is operated by the Virginia Department of Veterans Services (VDVS). VVSF established the Homeless Veteran Fund in 2016 to provide one-time assistance to homeless veterans being housed and those in danger of becoming homeless. The program has assisted more than 1,100 veterans by covering deposits, rent, and utility payments.
In addition, VVFS consistently provides resource referrals and behavioral and rehabilitative health care coordination and supportive services to Virginia's Veterans, caregivers and family members.
"The military is at the very core of who we are as a community in Hampton Roads," said Howard P. Kern, president & CEO of Sentara Healthcare. "The military drives our values and our identity as a region. Even for those who have never served, the military's commitment to service, integrity and pride in our country is infectious. Sentara is proud to support veterans in various ways, including welcoming veterans and their positive, can-do attitudes to our work force."
Currently, Sentara employs 1,704 veterans, who comprise about six percent of our more than 28,000-member workforce.
Since 2013, Sentara has participated in the Virginia Values Veterans program (V3), which helps companies develop best practices in recruiting, hiring, and retaining Virginia Veterans. In 2018, Sentara joined the Army's Partnership for Youth Success program, helping veterans secure job interviews with our company after their service. Sentara has been honored for hiring women veterans and for hiring the most military medics and corpsmen in Virginia in 2020.
"I join Acting Secretary Jabs in offering our sincerest appreciation for this significant donation and the continuing commitment of Sentara," said John Lesinski, VVSF Board Chairman. "These grant funds come at a challenging time for many veterans and their families and will enable us to offer stable housing alternatives and to coordinate behavioral services for veterans suffering mental health crises."
By: Dale Gauding
---