Sentara eICU marks 20th anniversary
Groundbreaking telemedicine service tracks 132 ICU beds at Sentara hospitals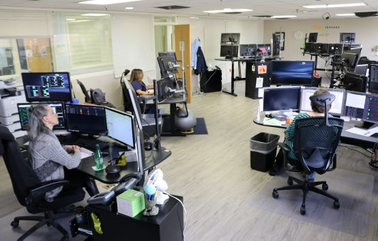 Nobody had heard of COVID-19 when Sentara Healthcare launched the nation's first remote monitoring and management program for hospital ICU patients on June 26, 2000. Over 20 years, Sentara eICU® has proven its value in reducing ICU mortality rates and length of stay among the sickest and most vulnerable patients. Today, the service is front-and-center in the fight against COVID-19.
"Rapid recognition, rapid response and constant monitoring of patients' conditions is our strength," says Steven Fuhrman, MD, medical director for Sentara eICU. "We are extra eyes and ears for care teams on patient floors and we help them respond quickly when patients' conditions change."
The program monitors 132 beds at eight Sentara hospitals from multi-screen work stations in a control center at Sentara Norfolk General Hospital. Real time telemetry, lab values and high resolution remote controlled cameras allow the eICU team to observe patients and talk live with care teams at the bedside.
To date, Sentara eICU has contributed to an overall 26.4% decrease in ICU mortality and a decline in length of stay of 17%.
"eICU helps us keep patients safe from self-harm, allows continual evaluation in rapidly changing environments and helps us coordinate complex multidisciplinary care," says Dr. Fuhrman. "In our experience, eICU serves the Sentara mission to improve health every day and help us give critically ill patients a better chance to go home."
By: Dale Gauding
---