Sentara Healthcare and Truist commit $1 million to strengthen Virginia's Emergency Food Support System
Grant will launch We Care COVID-19 Virginia Emergency Food Support Plan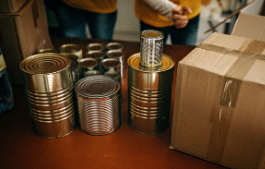 Sentara Healthcare and Truist announce a $1 million grant to the We Care COVID-19 Virginia Emergency Food Support Plan, a part of the Federation of Virginia Foodbanks. This grant will strengthen Virginia's emergency food support system to provide meals and nourishment to families during the COVID-19 pandemic and beyond.
Sentara Healthcare, and its health plan Optima Health, will contribute $500,000, while Truist has committed to giving $500,000. Together, the $1 million investment will launch the program in Virginia while Sentara and the Federation of Virginia Foodbanks continue to seek other partners to participate and contribute.
"While Sentara remains focused on caring for our patients and health plan members as well as supporting our staff during the CVOID-19 pandemic, we also recognize that many in our communities across Virginia are struggling with unmet needs such as a lack of food during this unprecedented crisis," said Howard P. Kern, president and CEO, Sentara Healthcare. "We sincerely hope this program will encourage other organizations to join us in this statewide initiative to provide meaningful solutions for our communities during this global pandemic."
Keeping people fed and healthy during this time is critically important. Virginia's emergency food supply system of food banks and meal delivery services for their partner agencies are responding as quickly as possible. However, they are battling a growing number of challenges, including a continued decrease in volunteers, food supplies, and distribution partners.
"We are proud to support the We Care COVID-19 Virginia Emergency Food Support Plan," said Dan O'Neill, Virginia-East regional president at Truist. "This program is designed to deliver reliable nourishment to the most vulnerable people in our neighborhoods throughout this difficult period, and this effort aligns perfectly with our purpose to inspire and build better lives and communities."
The We Care program centers around a new innovative emergency food care package, a five-day supply of nonperishable food. The care packages can be easily assembled and distributed through food distribution points, which are managed by Virginia's seven regional food banks and their associated partners. Sentara Healthcare and the Federation of Virginia Foodbanks are exploring new distribution points to help people most in need or those who need to be quarantined.
"The We Care program is a game-changer in our collective efforts to address Virginia's food needs during this dual health and economic crisis," said Eddie Oliver, Executive Director, Federation of Virginia Foodbanks. "This emergency food package can be easily mass-produced and distributed to vulnerable, food-insecure communities without placing additional stress on each food bank's staff and volunteer force."
By: Brittany Vajda
---