Sentara Healthcare Board of Directors selects Dennis Matheis to succeed Howard Kern as President and CEO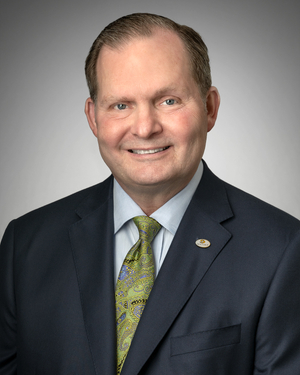 After a thorough national search and vetting numerous highly qualified applicants, the Sentara Healthcare Board of Directors has confirmed the selection of Dennis Matheis to succeed Howard Kern as the health system's President and Chief Executive Officer. Kern announced his retirement earlier this year following more than 40 years of service to the organization. Matheis will assume the role of President and CEO on September 1, 2022.
Matheis, who has served as President of Sentara Health Plans and an Executive Vice President at Sentara Healthcare since 2018, has spent the past 30 years in senior leadership roles within the healthcare industry, including health care financing and delivery. Bringing his experience and customer-focus to Sentara, Matheis led the technology modernization of Sentara Health Plans to provide new digital tools to members, the implementation of innovative models of care with provider partners, and the joint ownership transaction of Virginia Premier with VCU Health System.
Together under the Sentara Health Plans division, Optima Health and Virginia Premier now serve more than 950,000 members and partner with 25,000+ physicians and more than 100 hospitals. Under Matheis' leadership, the health plan division has more than doubled the number of members served, improved quality metrics, significantly enhanced the financial health of the division, expanded digital tools and capabilities in partnership with physicians, and controlled costs.
Prior to joining Sentara, Matheis served as a Senior Vice President at Anthem Inc. as well as President of Anthem's Central Region and Exchanges. He held senior leadership roles at Anthem Blue Cross and Blue Shield of Missouri, CIGNA Healthcare and Humana Health Plan, and Advocate Health Care in Chicago.
"Dennis is consistently innovating and thinking about ways to increase access to quality care, achieve greater success and outcomes, and develop new services to improve each patient's and member's individual experience with health and wellness services," noted Allan Parrott, Chair, Sentara Healthcare Board of Directors. "He is a visionary and a people-focused leader with a proven track record. Dennis is the right leader, at the right time for Sentara, and for our team members, medical professionals and the communities we serve."
As Sentara's new President and CEO, Matheis will lead implementation of the health system's strategic priorities and continue to build upon the strong quality, safety and financial foundation established during Kern's tenure as part of the organization's commitment to creating exceptional consumer value.
"I am humbled and excited by the opportunity to serve this great organization as its next President and CEO. The depth of talent and experience of our leaders and team members throughout Sentara is extraordinary. Witnessing firsthand the sacrifice and dedication exhibited by physicians, nurses and all team members in our hospitals and clinics throughout the pandemic was truly inspiring and I look forward to working more closely with them. We will continue our tradition of delivering industry-leading quality outcomes while positioning Sentara for success in a rapidly evolving health care landscape."
Matheis also serves on the Executive Committee of the Virginia Association of Health Plans (VAHP), the Board of Directors of the Virginia Chamber of Commerce and is a member of the Board of America's Health Insurance Plans (AHIP). He earned his B.S. in Accounting from the University of Kentucky and practiced as a Certified Public Accountant before entering the healthcare industry.
Dennis Matheis and his wife, Vickie, have been married for 41 years and have three children and four grandchildren. They have embraced all that the Hampton Roads, Virginia community has to offer over the past four and a half years and consider it their forever home. Matheis is an avid reader and loves to be on the water.
By: Peter Sengenberger
---