Sentara Healthcare careers camp inspires and engages next generation of diverse healthcare workers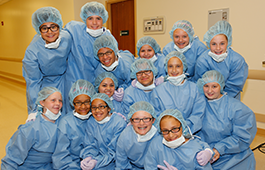 Middle school students throughout several communities in Virginia will spend a week with Sentara Healthcare medical professionals to learn about careers in healthcare, such as medicine, nursing, physical therapy, imaging services, and emergency services. Students will enjoy hands-on learning including CPR, pharmacy robotics, bandaging, setting casts, suturing (on fruit!), simulated IV placement, and making healthy meals.
By 2026, the shortage of healthcare workers will total 3.2 million, a staggering problem that has only been aggravated by the COVID-19 pandemic. The goal of Sentara Health Career Camps is to increase the pipeline of healthcare professionals and to promote diversity among community youth with a specific focus on ethnically and racially diverse populations who are at a disadvantage in pursuing healthcare careers.
Sentara CarePlex Hospital in Hampton, Sentara Obici Hospital in Suffolk, and Sentara RMH Medical Center in Harrisonburg will each host more than a dozen middle school students for Sentara Healthcare Careers Camp June 17 – July 1, 2022. Every camp registration is full. Students were selected from a large pool of qualified applicants based on a personal essay and teacher/guidance counselor recommendation. Camp will be hosted by Sentara leaders and staff at each facility, covering a broad range of clinical topics within Sentara Healthcare.
Over the course of the week, campers will have the opportunity to learn about the many jobs and departments that make Sentara Healthcare successful. Campers will participate in hands-on activities and will learn skills that can be used at home and at school, such as first aid.
WHEN:
Monday, June 17 through Friday, July 1, 2022
8:30 a.m. to 2:30 p.m.
Camp Graduation: Friday, July 1 from 6 to 7:30 p.m.
WHERE:
Sentara CarePlex Hospital
3000 Coliseum Drive
Hampton, VA 23666
Sentara Obici Hospital
2800 Godwin Blvd.
Suffolk, VA 23434
Sentara RMH Medical Center
2010 Health Campus Drive
Harrisonburg, VA 2280
---