Sentara Healthcare celebrates 80,000 COVID-19 vaccines administered
Vaccines administered to eligible participants in all regions of Virginia and Northeast North Carolina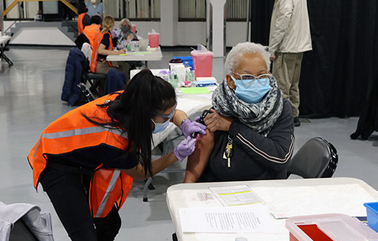 On Saturday, February 27, Sentara Healthcare surpassed 80,000 COVID-19 vaccines administered by the health system, a momentous milestone in the fight against COVID-19. The 80,000th vaccine was administered during large-scale community vaccination clinics in Hampton, Va, and Norfolk, Va, where nearly 10,000 second-dose vaccines were administered to eligible Phase 1b participants in a single day.
This exciting milestone was achieved through close partnership and collaboration with local departments of health in Virginia and North Carolina, city leaders and community and faith-based organizations. These partnerships ensure all vaccines distributed to Sentara are administered as quickly as possible to those in the appropriate phase group.
The 80,000-dose milestone includes first and second doses administered by Sentara thus far, equating to more than 40,000 fully vaccinated Phase 1a healthcare workers and Phase 1b community members across all communities in all regions we serve.
"We are grateful to our dedicated staff who have been organizing clinics in all regions to vaccinate our patients and community members at high risk for developing severe COVID-19 disease," said Mary Morin, Sentara COVID-19 Vaccine Task Force Lead and Vice President of Sentara Healthcare. "This accomplishment also highlights the tremendous partnership with health districts and community organizations to assist with ongoing vaccination efforts."
Out of the 80,000 vaccines administered, nearly 50,000 have been given to Phase 1a healthcare workers, and nearly 32,000 vaccines have been given to eligible Phase 1b patients and community members.
The Virginia Department of Health and the North Carolina Department of Health and Human Services continue to lead vaccine distribution through local health districts. We encourage all patients to sign up for the vaccine through their local health department if they have not already done so.
The Centers of Disease Control (CDC) has also just launched a new tool called the COVID-19 Vaccine Finder. This website shows which providers have available vaccine in stock near you.
By: Kelly Kennedy
---