Sentara Healthcare celebrates its research and clinical trial teams
Physicians and staff adapted to provide quality research and medical insight in the fight against COVID-19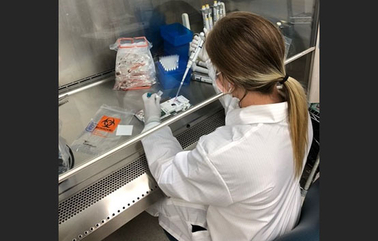 On this International Clinical Trials Day, people all around the world have become familiar with the impact of clinical trials in response to the COVID-19 pandemic. Thanks to several successful clinical trials and research teams, we now have a life-saving vaccine to protect against COVID-19 and several known treatment options for patients if infected.
Throughout the entire pandemic, a dedicated team of Sentara Healthcare employees has been quickly adapting to the clinical trial and research needs surrounding the unknown virus. The Sentara Health Research Center, a team of certified research staff, data management and established clinical experts, shifted its focus to support the emerging research and clinical trial needs to better care for COVID-19 patients.
Sentara participated in several groundbreaking research and clinical trials in just a few short months, including partnering with the Virginia Department of Health to assess how quickly the virus had spread throughout the state.
In June 2020, the Virginia Department of Health (VDH) launched the COVID-19 Serology Project to get a better estimate of the total number of people who have been infected with COVID-19 in Virginia. Sentara was selected by VDH to oversee and manage patient enrollment and blood sample collections for the Eastern Region of Virginia. In just three short weeks, the Sentara Research team enrolled nearly 1,000 patients into this first-of-a-kind trial. The team navigated the challenges of enrolling patients into a new study during a pandemic, while also following strict safety guidelines to ensure their safety and the safety of all patients.
The results of this state-wide study were published in September 2020 and showed only a small percentage of Virginians had antibodies (meaning they had been infected with the virus). This evidence guided decision-making and the need for communities to stay vigilant and continue to practice safety measures.
Today, on National Clinical Trials Day, we celebrate all of the physicians and staff who participated in clinical trials and the patients who participate to help advance the science of health.
The Sentara Health Research Center will continue its partnership with medical schools, colleges and universities, independent practice and physician groups, federal, industry and other sponsors to further conduct clinical and health research. The Sentara Health Research Center is currently active in hundreds of clinical trials throughout all regions and focus areas.
Continued priorities of the Sentara Health Research Center include improving clinical outcomes and patient safety, improving community health equities and disparities, and developing new technologies and advancements to improve a patient's quality of life.
Sentara's Involved Clinical Trials and Research Publications During COVID-19:
By: Kelly Kennedy
---