Sentara Healthcare Collaborates to Provide COVID-19 Vaccines to Underserved Communities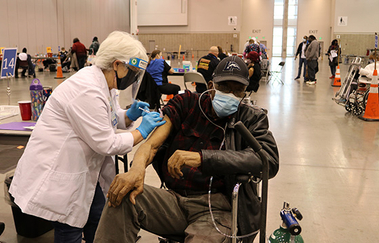 It may have been cold and dreary outside on the afternoon of Friday, February 19, 2021 but the atmosphere inside the Hampton Convention Center was warm and bright. A steady line of Phase 1b-eligible individuals were ushered into a large hall to receive their first dose of the COVID-19 vaccine at a clinic hosted by the City of Hampton. Around 800 of those who passed through the line received the call to make an appointment at the Hampton event just a day or two earlier. Their appointments were made possible by collaboration between Sentara Healthcare and local community and faith-based partners to reach many of the same underserved communities to which Sentara provided over 15,000 free COVID-19 tests earlier in the pandemic.
"I got the call [Thursday] night to make an appointment for this vaccine," one woman said as she sat down and rolled up her sleeve at the Friday clinic. "I felt like I'd won the lottery. I am certainly blessed."
Since the start of the pandemic, COVID-19 has had a disproportionate impact on Black, Brown and other people of color. According to the Center for Disease Control (CDC), individuals in these communities are significantly more likely to experience severe illness, require hospitalization or die from COVID-19. These same communities are also more likely to experience other consequences of the pandemic including income, food and housing insecurity. Still, national and statewide data shows that the majority of vaccines are not going to people in these at-risk communities.
"We know that we need as many people as possible vaccinated as fast as possible, but the data is clear: those most affected by COVID-19 are not being vaccinated proportionately. If we want to keep our communities healthy, it is critical that Black, Brown and other underserved communities get access to the vaccine," said Iris Lundy, Director of Health Equity for Sentara.
To do that, Sentara is designating a significant portion of the limited weekly doses it receives from local health districts for eligible individuals in minority populations and underserved communities, regardless of whether or not they are Sentara patients. The 800 doses Sentara administered at the Hampton Convention Center on Friday accounted for the vast majority of the system's allotment for that week.
Due to the Commonwealth of Virginia's vaccine distribution model to local health departments, Sentara is notified weekly about whether the system will receive vaccines that week for first dose appointments in a given health district. Once Sentara knows how many doses to expect, Lundy's Health Equity department gets to work, quickly connecting with faith leaders and community organizers to plan a clinic and fill appointments that same week.
Eligible community members from faith groups or community organizations that partner with Sentara are directly contacted and invited to available clinics. If an invited community member does not have access to a computer or cannot sign up for an appointment on their own, Sentara and its partners work to manually enter appointments and assist with filling out any necessary forms. In some cases, Sentara's community partners may provide transportation to the vaccination sites.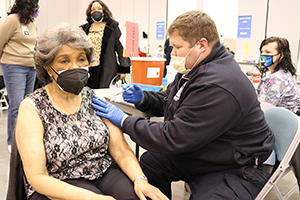 "We are being intentional about how we assist our communities and help eliminate barriers to access a COVID-19 vaccine, especially for Phase 1b-eligible individuals, which includes older people who may not have the ability or resources to sign up online or may not be able to drive themselves to a clinic," Lundy said.
Phase 1b, as defined by the Virginia Department of Health (VDH), includes frontline essential workers, people age 65+, people age 16-64 with an underlying medical condition and people who live in correctional facilities, homeless shelters or migrant labor camps. Sentara offered appointments to individuals 65 and older or Phase 1a healthcare personnel at the Hampton clinic.
"During this pandemic, in order to help our communities, partnerships are extremely important. Sentara has been that kind of partner, offering assistance and opportunities for people of all backgrounds to be served," said Kevin Swann, pastor at Ivy Baptist Church in Newport News, Va. Pastor Swann partnered with Sentara to fill appointments at the Hampton Convention Center.
"In the community where our church is located, we work with predominantly underserved minority populations. To have Sentara as a partner has been essential to provide help for the people who need it most and those whose voices tend to be muted. I look forward to the continued partnership with Sentara," he said.
Sentara is grateful to the community and faith-based leaders who are playing an integral part in coordinating vaccine appointments for the most vulnerable among us. Creating these opportunities in the communities we mutually serve is crucial to our ability to end the pandemic as soon as possible and improve health every day beyond COVID-19.
Additional clinics are being planned for this month in partnership with various Norfolk-based faith and community groups. Another clinic in Hampton is scheduled for early March. Sentara will provide vaccinations to underserved community members in all regions we serve if and when the system receives vaccine allocations from the respective health districts.
By: Lauren Patton
---