Sentara Healthcare joins Virginia's OneLab Network to expand COVID-19 testing capacity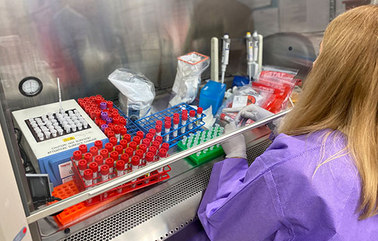 Sentara Healthcare has been awarded a contract from The Department of General Services and Virginia Department of Health to help increase Virginia's COVID-19 testing capabilities through a new partnership, Virginia's OneLab Network. The OneLab Network will expand testing capabilities throughout the Commonwealth by contracting with health systems to directly support public health efforts such as outbreak investigations, community testing events, and other priority testing needs. Sentara Laboratory Services is one of three health laboratories across the Commonwealth to be selected.
Through the OneLab Network, Sentara Lab Services will perform COVID-19 tests for the Virginia Department of Health (VDH) focusing on Virginia's eastern region, in addition to supporting current patient testing needs.
Funding from this partnership will allow Sentara to purchase additional testing equipment and increase in-house testing capabilities to meet demand. Currently, Sentara Labs are completing roughly 1,200 COVID-19 tests per day with a 24 to 48-hour turnaround time. Once the OneLab Network is operational, Sentara expects to be able to complete an additional 1,000 tests per day.
This increase in testing capabilities complements the work Sentara is already doing to prepare for the anticipated increase in testing demands during the winter months and upcoming respiratory illness season.
Sentara Healthcare began in-house COVID-19 testing in early April, using a newly-created laboratory in Sentara Norfolk General Hospital. Sentara's COVID-19 testing lab services patient testing needs across all 12 hospitals, five freestanding emergency departments, Sentara Medical Group primary care and specialty care offices, as well as Sentara employee testing needs.
To learn more about Virginia's OneLab Network, please read the news release from the Virginia Department of Health and Virginia Department of General Services.
By: Kelly Kennedy
---