Sentara Healthcare named a Top 15 Health System by IBM Watson Health
Sentara recognized for excellence in clinical outcomes, operational efficiency and patient experience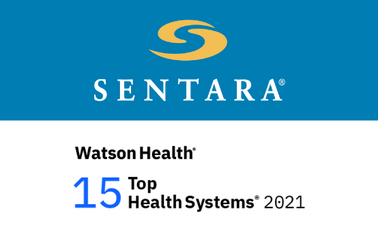 Sentara Healthcare has been named one of the Top 15 Health Systems in the nation for 2021 by Fortune and IBM Watson Health. This is the second time Sentara received this prestigious honor, which highlights top-performing U.S. health systems with excellent clinical outcomes, operational efficiency and patient experience. Sentara Healthcare is the only health system in the Mid-Atlantic and Southeast regions to be recognized with this honor.
Each year, IBM Watson Health analyzes hospital metrics from more than 2,800 hospitals and health systems across the country. That data is then used to identify the 15 best health systems in the nation – five each in the categories of large, medium and small systems—and develop national benchmarks for the industry. Sentara was named a Top 15 Health System in the large system category along with four others.
Winning health systems demonstrate better patient care, fewer complications and infections, shorter lengths of stay for patients in the hospital, shorter emergency department wait times, lower spend on hospital costs and higher patient satisfaction. The study relies on public data from the Medicare Provider Analysis and Review (MedPAR), Centers for Medicaid and Medicare Services (CMS) Hospital Compare datasets and Medicare cost reports.
"Sentara Healthcare's consistent ranking among the top systems and hospitals in the nation is a testament to our high standards of multidisciplinary care, focus on safety and innovation, and personalized service. Being named an IBM Watson Top 15 Health System for a second time underscores our unwavering commitment and dedication to our patients and their care, as well as our team members' hard work and incredible skill," said Sentara Healthcare President and Chief Executive Officer Howard P. Kern. "Sentara ranked highly in a number of areas, including reduced inpatient mortality rates and fewer health complications. We were also recognized for significant improvements in patients' average length of stay and reduced Emergency Department wait times. We are honored to be named a Top 15 Health System and will continue to focus on improved patient care and outcomes for the communities we serve."
Sentara's performance exceeds national large-system median benchmarks in eight of the nine categories considered in the rankings: fewer patient deaths, fewer patient complications, lower rates of Hospital-Acquired Infections, lower rates of readmission, shorter lengths of stay in the hospital, less time waiting in Emergency Departments, lower Medicare spending per beneficiary (MSPB), and higher Hospital Consumer Assessment of Healthcare Providers and Systems (HCAHPS) patient satisfaction.
Recognition as a Top 15 Health System demonstrates Sentara's ongoing commitment to prioritizing patient-centered care. For nearly a decade, Sentara has utilized a system-wide process called Clinical Performance Improvement™ to monitor health outcomes in key areas such as hospital readmissions, patient infections, and lengths of stay, among others. This innovative process standardizes clinical improvements and best practices across all Sentara Healthcare hospitals, practices and care locations and uses a joint council of physician and executive leaders to expedite decision-making.
In addition to achieving Top 15 Health System recognition, Sentara Leigh Hospital in Norfolk, Va. and Sentara RMH Medical Center in Harrisonburg, Va. were listed as Top 100 Hospitals by IBM Watson Health. Sentara Leigh Hospital is recognized as a top Teaching Hospital and Sentara RMH Hospital is recognized as a top Medium Community Hospital. Both Sentara hospitals were recognized for overall high-performance and efficient, quality care.
About IBM Watson Health 100 Top Hospitals® Program
The IBM Watson Health 100 Top Hospitals Program's annual studies result in the Fortune/IBM Watson Health 100 Top Hospitals list, Fortune/IBM Watson Health 50 Top Cardiovascular Hospitals list and IBM Watson Health 15 Top Health Systems list. Organizations do not apply for consideration, and winners do not pay for this honor or pay to promote their award. Award-winning hospitals and health systems serve as a model of excellence for the industry. Visit http://www.100tophospitals.com for more information.
About Sentara Healthcare
Sentara Healthcare celebrates more than 130 years in pursuit of its mission – "we improve health every day." Named to IBM Watson Health's "Top 15 Health Systems" in 2018 and 2021, Sentara is an integrated, not-for-profit system of 12 hospitals in Virginia and Northeastern North Carolina, including a Level I trauma center, the Sentara Heart Hospital and the Sentara Healthcare Cardiovascular Research Institute, the Sentara Brock Cancer Center and the accredited Sentara Cancer Network, two orthopedic hospitals, and the Sentara Neurosciences Institute. The Sentara family also includes four medical groups, Nightingale Regional Air Ambulance and ground medical transport, home care and hospice, ambulatory outpatient campuses, advanced imaging and diagnostic centers, a clinically integrated network, the Sentara College of Health Sciences and the Optima Health Plan and Virginia Premier Health Plan serving 858,000 members in Virginia, North Carolina and Ohio. With nearly 30,000 employees and ranked one of Forbes "America's Best Employers" in 2018, Sentara is strategically focused on clinical quality and safety, innovation and creating an extraordinary health care experience for our patients and members.
By: Kelly Kennedy
---