Sentara Hospitals activate violence prevention grants
Sentara Norfolk General, Sentara CarePlex hospitals to mark 'Wear Orange' Day June 5th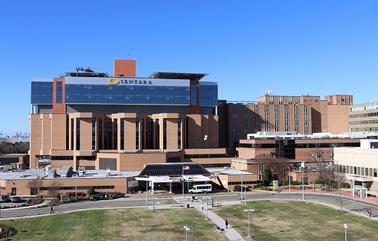 Sentara Norfolk General Hospital, Eastern Virginia's regional Level I adult trauma center, and Sentara CarePlex Hospital in Hampton will observe 'Wear Orange' day on Friday, June 5th to mark the activation of violence prevention grants through the Virginia Hospital and Healthcare Association. The grants will support the development of community-based programs to prevent gun and intimate partner violence before they result in more traumatic injuries.
Wear Orange grew out of the death of 15-year-old Hadiya Pendleton of Chicago who died by gun violence a week after performing at President Barack Obama's second inaugural in 2013. Her friends wore orange to her funeral and the gesture of solidarity morphed into a movement.
Advocates in the hospitals will wear orange on Friday, offering staff education on gun violence, which the New England Journal of Medicine calls the second leading cause of death among children and adolescents in the U.S. after vehicle crashes. (2018)
From June 2019 through May 27th of this year, Sentara Norfolk General Hospital's Level I trauma program, in partnership with Eastern Virginia Medical School, treated 353 gunshot wounds and 97 stabbings resulting in 33 deaths. There were also 131 traumas from assaults, 16 of which were identified as domestic violence. Two patients died from assaults.
The Sentara CarePlex Hospital ER is not a rated trauma center, but because of its location, it often receives and stabilizes trauma patients from Hampton, Va. and transfers them to the nearest trauma center.
Grants will fund prevention initiatives
Under the Hospital-based Violence Intervention Program (HVIP) grant initiative announced in January, Sentara Norfolk General Hospital and Sentara CarePlex Hospital will each receive $400,000 per year over two years from a Virginia Department of Criminal Justice Services (DCJS) grant initiative aimed at improving public safety and health outcomes for victims of violence. Each hospital will hire and train staff to implement programs to help break the cycle of violence and help survivors achieve positive long-term outcomes. This includes survivors of shootings, stabbings, sexual assaults and domestic violence.
"We have been working on our own to implement prevention programs, but grant funding has been inconsistent," says Jay Collins, MD, chief of trauma at Sentara Norfolk General Hospital and professor of surgery at Eastern Virginia Medical School (EVMS). "This grant will provide stability to hire skilled professionals to maintain a consistent presence for our patients and communities." Plans include community-based partners who can offer programs teaching youth about de-escalation techniques and alternatives to violence as a means of settling disputes.
"It breaks out hearts to see trauma patients from violence for a second and third time," says Valeria Mitchell, RN, manager of the trauma service at Sentara Norfolk General Hospital. "We fear some of these survivors are on borrowed time without intervention to break the cycle."
Mitchell has hired three experienced professionals through the grant. The new staff include:
Stephen Williams – team coordinator – former director of operations for the Urban League of Hampton Roads and chief operations officer for Transformation Therapeutic Services, a group home for teenage boys.
Nicole Prosser – medical social worker – formerly with the trauma program at Sentara Norfolk General Hospital, now focused on the violence prevention grant.
Holly Stevens – community health worker – former nursing care partner with Sentara Norfolk General Hospital and community-based counselor with a private agency in Virginia Beach.
Sentara CarePlex Hospital has designated Loren Smith, manager of operations support, to manage the grant and develop new community-based programs and relationships.
"Survivors of street and domestic violence often return to their homes with little or no social support," says Kapua Conley, president of Sentara CarePlex Hospital in Hampton, Va. "This new program will serve as a guiding light to those trapped in the darkness of violence."
By: Dale Gauding
---