Sentara launches COVID-19 vaccine clinic self-scheduling website
Community members are invited to schedule their own vaccine appointment immediately, for as long as appointments are available.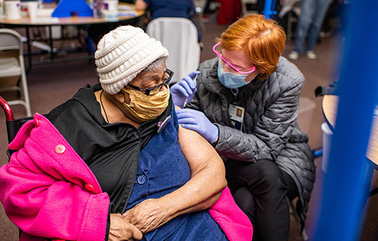 Sentara Healthcare has launched a new website for patients and community members to quickly view and schedule a first-dose vaccine appointment at an upcoming Sentara COVID-19 vaccine clinic.
Anyone who is 16 years or older is invited to visit Sentara's self-scheduling website at www.sentara.com/vaccineclinic.
Those who are 16 or 17 years old must be accompanied by a parent or legal guardian. A signed vaccine consent form will be required upon check-in. Those who are 16 or 17 years old are only able to receive the Pfizer vaccine, per FDA guidelines. Our website will identify which vaccine will be used at each clinic
The website will host Sentara's confirmed COVID-19 vaccine clinics for the upcoming week. The clinic schedule will be updated each week. Once each clinic reaches full capacity, registration will be closed and the link to schedule will no longer be activated.
This website will only be able to schedule appointments for Sentara-hosted vaccine clinics. Appointments are on a first come, first served basis. Please schedule an appointment to guarantee a vaccine. Walk-ins will only be accepted if there is extra vaccine supply at the clinic site.
People without internet access or an email address can register for a clinic by calling the Sentara Vaccine Scheduling Call Center. The call center is open Monday – Friday, from 8:00 a.m. until 4:30 p.m. The phone number is 1-833-887-6943.
Sentara's community vaccination clinics are hosted in partnership with local departments of health, city leaders, as well as faith-based and non-profit organizations. We will update our clinic schedule each week based on the number of vaccine doses provided to us by local health districts and encourage the community to check the website weekly for newly confirmed clinics.
Sentara Healthcare encourages everyone who has not yet received a vaccine to sign up for an available appointment.
By: Kelly Kennedy
---