Sentara Martha Jefferson Celebrates 10 Years on Pantops Mountain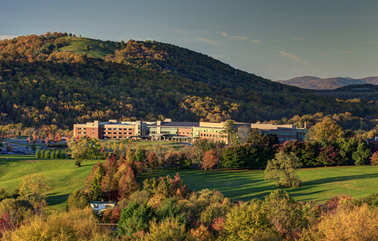 This August marks the 10th anniversary of Sentara Martha Jefferson Hospital's move to Pantops Mountain. Since moving to this location, Sentara Martha Jefferson Hospital has experienced growth in its services, improved access to care across Central Virginia, and improved quality and safety.
Since the hospital's founding in 1903, patients have been at the heart of Sentara Martha Jefferson's mission. The move from the downtown Charlottesville location to the 520,000-square-foot, 176-bed facility with spectacular views in Pantops hasn't changed that focus. The new facility and its picturesque setting provide a soothing, healing environment that embraces Central Virginia's natural beauty and creates a comfortable and safe patient experience. Private patient rooms reduce the risk of infection while giving patients and families the privacy they need during anxious times.
Since this move, Sentara Martha Jefferson has added new health care services, new partnerships, and new programs, and patients remain at the center of every decision made. Below is a list of several established or expanded service lines and programs added to provide advanced therapies.
Opening of Freestanding Emergency Department
Introduction of neurointerventional surgery services for advanced stroke and aneurysm treatment
Construction of a new helipad allowing quick transportation for emergency care from a greater distance
Development of an Advanced GI program with the addition of two new specialists
Expansion of cancer capabilities with new colorectal and hepatobiliary surgeons and the introduction of our Fast Track Lung Program
Promoting health equity for all by opening the Starr Hill Health Center, a free wellness center focusing on chronic disease prevention and management
Establishment of a Diversity & Inclusion Council aimed at ensuring everyone in our community can feel comfortable turning to us for care
Introduction of a new Patient & Family Advisory Council to unite staff and community members through a shared commitment to an outstanding patient experience
Development of a new Caregiver Center to provide a place of solace for the family caregiver
"Celebrating ten years in this facility means that we are also celebrating a decade of continued focus on our patients and community and delivering on our commitment to provide high-quality personalized healthcare. In addition, our new campus has allowed for expansion of services, increased support, and more efficient delivery of patient care," said Catherine Hughes, Director of Patient Care Services.
Over the last decade, Sentara Martha Jefferson Hospital has continued its commitment to providing exceptional care for the Charlottesville community and beyond. It is able to achieve that by attracting and retaining the best physicians, nurses, and staff and maintaining facilities that offer advanced technology and innovative treatment. As a result, Sentara Martha Jefferson has received numerous honors, including:
DNV Primary Plus Stroke (PSC+) Certification from DNV GL-Healthcare (the first hospital in the nation to receive this designation)
Blue Distinction® Center+ for Bariatric Surgery designation as part of Anthem Blue Cross Blue Shield's Blue Distinction Specialty Care program
5-Star Rating from the Centers for Medicare & Medicaid Services
Hospital and Health Network's Most Wired Award for 2016
Soliant Health's 2012 Most Beautiful Hospital in America
LEED® certification by the US Green Building Council
2021 Top 10 Ranking by US News and World Report, and recognized as High Performing in the Neurology & Neurosurgery specialty
Magnet® Recognition for Nursing Excellence from the American Nurses Credentialing Center (2006, 2011, 2016, 2021)
"Since we moved in on August 28, 2011, I have seen that the planning efforts of the move were worthwhile. This facility continues to help us achieve our goal of improving patient care and safety every day," says Paul Tesoriere, Vice President, Chief Medical Officer. "At Sentara Martha Jefferson Hospital, we are constantly innovating in order to provide exceptional care for the community, now and for decades to come."
By: Alyssa Pacheco
---