Sentara Martha Jefferson Hospital earns Comprehensive Stroke Center Certification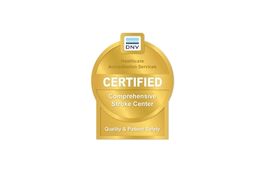 Sentara Martha Jefferson Hospital recently earned certification from DNV GL - Healthcare as a Comprehensive Stroke Center, reflecting the highest level of competence for the treatment of serious stroke events. Only seven stroke centers in the Commonwealth of Virginia and approximately 125 across the country hold this top designation.
"Sentara Martha Jefferson Hospital has always been committed to and capable of providing comprehensive stroke care of the highest quality for our community, and we are proud to continue to do so," said Rita Bunch, President of Sentara Martha Jefferson Hospital. "This certification highlights the immense effort we have put into this program and to ensuring the health and safety of our patients."
Sentara has a strong commitment to stroke care that spans our integrated healthcare system. "This designation directly reflects the long-standing breadth and depth of our Stroke Program capabilities," said Dr. Alexander Grunsfeld, Medical Director of Neurosciences for Sentara Healthcare and Co-Medical Director of the Sentara Healthcare Stroke Program. "Our team is dedicated to educating the community about the risks and warning signs of stroke and providing the most extensive stroke care possible."
"The Sentara Martha Jefferson Hospital Stroke Program is a critical asset to our community," said Dr. Melanie Winningham, Vascular Neurologist and Stroke Medical Director at Sentara Martha Jefferson Hospital. "Our multidisciplinary team works tirelessly to ensure we offer the personnel, infrastructure, and expertise to diagnose, care for, and support stroke patients who often require highly intensive medical care, specialized diagnostic testing, and a full complement of neurosurgical and neuroendovascular interventional therapies. Our commitment to providing the best care possible to our community is our priority, and the emergence of Sentara Martha Jefferson Hospital as a certified Comprehensive Stroke Center is an important step in improving the systems of care for our stroke patients and their families. I am very proud to be a part of the Sentara Martha Jefferson Hospital team during this exciting time."
The DNV Comprehensive Stroke Center Certification is based on standards set forth by the Brain Attack Coalition and the American Stroke Association, and affirms that the medical center addresses the full spectrum of stroke care - diagnosis, treatment, rehabilitation and education - and establishes clear metrics to evaluate outcomes.
Bunch says, "With stroke care, you must have the best clinicians and resources, but also the ability to act organizationally with extreme efficiency because of the time-critical nature of these events."
"Achieving certification shows commitment to excellence," says Patrick Horine, President of DNV Healthcare USA Inc. "And it helps demonstrate to your community that you are performing at the highest level."
Sentara is committed to raising awareness and educating community members about the signs and risk factors of stroke. To learn more about stroke treatment at Sentara Healthcare, visit www.sentara.com/stroke.
By: Alyssa Pacheco
---