Sentara Norfolk General Hospital cafe joins food rescue program
The Retreat Café donates unused hot food to food bank for soup kitchen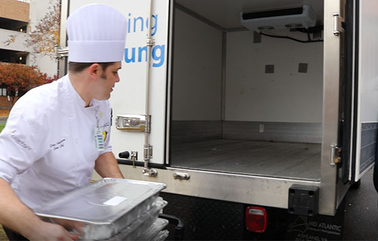 Morrison Healthcare, operator of The Retreat Café at Sentara Norfolk General Hospital, has partnered with the Food Bank of Southeastern Virginia and the Eastern Shore to donate prepared, unused food to a soup kitchen at the Basilica of St. Mary in downtown Norfolk. Pans of unused cafeteria foods are safely chilled or frozen and picked up by the Food Bank's 'Food Rescue' program. The restaurant-quality food reduces costs for the church and labor for volunteers, who only need to reheat it before serving.
"We recognized a great opportunity to partner with the Food Bank when they approached us about this project," says Shannon Murphy, director of support services for Sentara Norfolk General Hospital. "Our dietary partners at Morrison's responded without hesitation and we are happy to help put unused food on the table for people who need healthy nutrition."
Morrison Healthcare's parent company, Compass Group USA, is committed to reducing food waste by 25 percent by 2020 through its own program called Waste Not, which targets food rescue programs as alternatives to wasting prepared foods.
"We use fresh ingredients prepared on-site," says Jack Hotaling, director of food & nutrition programs for Morrison's Healthcare at Sentara Norfolk General Hospital. "We've been providing nutritious food to the rescue program for about eight weeks now and we're seeing good results."
In addition to cost savings and convenience, enhanced access to healthy food can play a positive role in overall community health.
About 171,000 people in Hampton Roads are food insecure," says Jessica Melton, COO of Sentara Norfolk General Hospital. "As a health care institution, we know that access to healthy food can help alleviate issues with diabetes and other chronic conditions and we're happy to partner with Morrison's and the Food Bank on this project."
By: Dale Gauding
---