Sentara Northern Virginia Medical Center unveils and dedicates Sentara Infant Memorial
Memorial offers loved ones a place to grieve and remember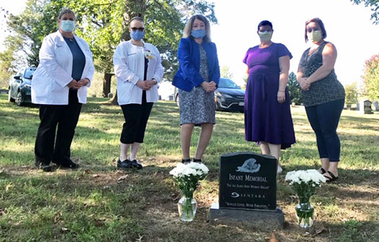 It's estimated one out of eight pregnancies ends in a miscarriage or loss. The result is hurt and devastation for the families left behind. Now those families have a place to grieve and reflect.
Wednesday, October 7, 2020, Sentara Northern Virginia Medical Center, in collaboration with Grace United Methodist Church, unveiled this sacred space in the Buckhall Community Cemetery. Marked with a headstone, the interfaith site is a place for scattering fetal ashes. Families can sit and visit or reflect and grieve the loss of their children that died in utero.
The idea for this project started four years ago, "A mother came to me and asked where she could go and grieve the loss of her stillborn baby. I found out where the ashes went, it wasn't a place I could send families. From there, I had an idea and started talking to community leaders about my vision," remembers Cindy Hardy, Sentara Northern Virginia Medical Center Chaplain and developer of this project.
Hardy says chaplaincy and decedent affairs will notify families of their options when choosing a disposition. Otherwise, a letter will be sent out quarterly inviting all those who have a fetal loss in that quarter to come to a formal memorial service.
Hardy says this is an inclusive site, "It is open for everyone. No matter how many years have passed. Grief hurts. The space is open from dawn to dusk for reflection. The infant memorial is open to everyone. All are welcome."
This is a joint project between Sentara Northern Virginia Medical Center and Grace United Methodist Church. The church donated the land. The project was funded by donations to the Chaplain's Special Project Fund and through the Grace UMC's Cemetery Fund.
By: Susan Bahorich
---