Sentara physician Dr. Gwendolyn Williams named a Womens Health Ambassador for National Womens Health Week
U.S. Department of Health & Human Services and The Office of Women's Health Selected Hospitalist Dr. Gwendolyn Williams for Prestigious Ambassadorship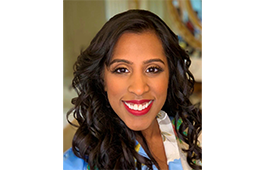 Sentara is proud to announce that Dr. Gwendolyn Williams, MD, hospitalist at Sentara Care Plex Hospital, has been named a Women's Health Ambassador for National Women's Health Week (May 8-14). Established by The Office on Women's Health within the U.S. Department of Health and Human Services (HHS), Women's Health Week is a time designed to encourage women and girls to reflect on their individual health needs and take steps to improve their overall health. This year's theme, Forward Focus: Achieving Healthier Futures Together, emphasizes the unique but important role that each of us play in helping women live their healthiest lives.
Women's Health Ambassadors are celebrities, athletes, and entrepreneurs who are champions for women's health issues. They voluntarily help the Office on Women's Health promote National Women's Health Week to a wide range of women, including the ambassadors' fans and communities.
As the first woman to serve as President of the Medical Executive Committee at Sentara Care Plex Hospital, Dr. Williams is a proven leader with more than a decade of experience in both patient care and healthcare leadership. In 2022, she was elected as the President of the Society of Hospital Medicine, Hampton Roads Chapter. Prior to her role as Chief of Staff, she served as the Chief of Medicine and Vice-President of the Medical Executive Committee. She is the Co-Chair of the Sentara Medical Group Wellness & Engagement Committee and utilized this role to bring many wellness initiatives to healthcare workers during the COVID-19 pandemic.
"National Women's Health Week is a reminder that the health of women, and all members of society, are paramount to our collective survival," says Dr. Williams. "Healthy self-care is not selfish; it is the vital starting point and foundation of individual well-being and positive societal transformation. Investing in our own health, and teaching children to do the same, allows us to show up as our best selves, reconnect in the self-compassion of our shared humanity, and meet the challenges of our world so that we can build a future in which we thrive together."
Dr. Gwendolyn Williams is dedicated to improving the overall well-being of healthcare providers, decreasing burnout, and mitigating moral injury. She is an avid advocate for health equity for marginalized and historically disadvantaged groups and a self-proclaimed social justice warrior. Dr. Williams received her undergraduate degree from Hunter College, where she graduated as Valedictorian. She is also an alumnus of the Woodrow Wilson Public Policy and International Affairs Fellowship at Princeton University. She attended the University of Pittsburgh School of Medicine and completed an Internal Medicine residency at New York Hospital Presbyterian, Queens.
"Dr. Williams is a well-known champion for women's health within and outside of Sentara Healthcare," explains Dana Beckton, Chief Diversity Officer at Sentara Healthcare. "Her dedication to pursuing health equity by addressing health disparities, as well as her influential position as a female woman of color in healthcare administration make Dr. Williams an ideal selection for serving as an Ambassador for Women's Health. We are proud to have her as the first physician representing Sentara Healthcare in this important role."
About the Office on Women's Health
The Office on Women's Health (OWH) was established in 1991 within the U.S. Department of Health and Human Services (HHS). OWH coordinates women's health efforts across HHS and addresses critical women's health issues by informing and advancing policies, educating health care professionals and consumers, and supporting innovative programs.
For more information about the OWH, or the 2022 Women's Health Ambassadors, visit www.womenshealth.gov.
---