Sentara Provides Behavioral Health Supportive Services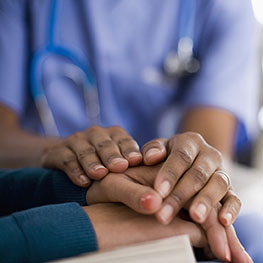 When life gets to be too much, when addiction affects work and relationships, Sentara Outpatient Behavioral Health Services can throw you a lifeline. Sentara Healthcare supports the communities we serve through our Corporate Social Responsibility (CSR) program. This includes addressing social determinants of health for individuals and quality of life for communities as part of our corporate mission to improve health every day.
One pillar of this commitment is improving access to care and supportive services for behavioral health patients. National Recovery Month in September is a good time to learn about help available through outpatient programs based at Sentara Virginia Beach General Hospital, Sentara RMH Medical Center in Harrisonburg and Sentara Halifax Regional Hospital in South Boston, Va.
"We focus on ways to help people cope with the issues in their lives so they can function day-to-day," says Glinda O'Neill, manager of outpatient behavioral health services for Sentara Healthcare. "We create a supportive environment coupled with community resources that can help sustain people long-term."
Partial Hospitalization is a two-week program for patients struggling with depression and anxiety. Eight patients work together in group therapy five hours a day for 10 days, learning positive coping skills and serving as a mutual support system.
Intensive Outpatient Program (IOP) is designed for patients recovering from addictions to alcohol, opioids and other drugs, or destructive behaviors that interfere with work and relationships. IOP is a six-week program that meets three evenings per week for three hours. The sessions create a supportive clean-and-sober community in conjunction with Alcoholics Anonymous and Narcotics Anonymous.
VBStrong Center is a grant-funded community resource, created by Sentara in partnership with the City of Virginia Beach after the mass shooting at the Municipal Center on May 31st, 2019. More than 300 city employees and family members affected by the incident have sought services since October of 2019, all free of charge. First responders affected by the tragedy can also connect with anonymous, cost-free mental health services through the program.
Sentara outpatient programs accept all insurances. Self-pay patients can work out discounted payment plans, or they may quality for cost-free care based on family income.
"About 80% of the patients in our outpatient programs are women," O'Neill says. "That speaks to the difficulty men have asking for help. I hope awareness of these programs might move the needle a bit."
Optima Health members are able to have virtual behavioral health visits from the privacy of their homes through MDLIVE®. All telehealth visits, including telephone only, with in-network providers, are free through October 31. Details at optimahealth.com/mdlive.
The Sentara mission to improve health every day includes behavioral health as a pillar of our commitment to corporate social responsibility. Take advantage of National Recovery Month during September to ask for the help you need. Visit Sentara.com/behavioralhealth or call the Sentara Center for Behavioral Health 757-395-1405.
Resources
Call 911 if you feel a threat to your safety or someone else's, or go to the nearest Emergency Department.
By: Dale Gauding
---