Sentara RMH Named a 50 Top Cardiovascular Hospital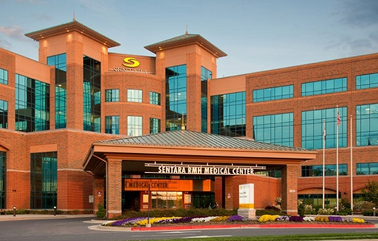 Sentara RMH Medical Center has been named as one of the nation's top performing hospitals by Fortune and IBM® Watson Health®. The annual Fortune/IBM 50 Top Cardiovascular Hospitals study spotlights leading short-term, acute care, non-federal U.S. hospitals that treat a broad spectrum of cardiology patients. The study is designed to identify impartial, actionable, and attainable benchmarks for hospital and clinical leaders as they work to raise their own organizations' standards of performance in cardiac care. This is the second consecutive year that Sentara RMH has received the IBM Watson Top 50 award.
"We are in a unique position to build a comprehensive program usually seen in an academic center, with the patient-centered care that a community hospital helps provide," said Brad Rash, MD, medical director, Sentara Cardiology Specialists. "Our providers continually strive for excellence and attention to detail with every patient they meet. We are very humbled to have those efforts validated with this award for the second year in a row. It's important to note that hospitals do not apply to be included in the Fortune/IBM Watson Health study, nor do they pay to participate. This is an independent, third-party assessment of those facilities that make the list."
This year's study included 980 U.S. hospitals with cardiovascular service lines. Based on comparisons between the study winners and a peer group of similar hospitals in the study, the winners delivered better outcomes while operating more efficiently and at a lower cost.
Sentara RMH offers a full line of cardiology services, including interventional cardiology and cardiothoracic surgery to treat coronary artery blockages; electrophysiology to address heart rhythm problems; structural heart services to treat cardiac valve and other structural problems of the heart; and cardiopulmonary rehabilitation services. Providers in the cardiology service line collaborate closely with other hospital lines including the emergency department, imaging, pharmacy, and the hospital's critical care and progressive care nursing units.
"We're very pleased to receive this award for a second year, but it's not just about winning an award; the award is an independent recognition of the superior heart care we provide at Sentara RMH," said Stan Holland, MS, RRT, FAARC, director of the Sentara RMH Cardiovascular Service Line. "The 2020 report was based on 322 community hospitals in the U.S. that have cardiovascular programs, and only 10 of those made it on the IBM Watson list, so really you can say Sentara RMH is among the top 10 community hospitals in the country that offer cardiovascular care. We're proud to serve our community with this level of care, and our physicians, clinicians and hospital administration are all committed to continually improving the cardiology services we offer."
The top hospitals were announced in Fortune. For more information, visit https://www.ibm.com/watson-health/services/100-top-hospitals.
By: Neil Mowbray
---