Sentara RMH Medical Center Names New Vice President of Operations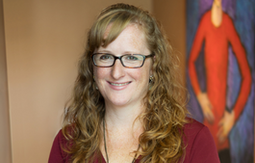 Catherine Hughes has been hired as Vice President of Operations for Sentara RMH Medical Center. Hughes, familiar to Sentara, most recently held the Director of Patient Care Services position at Sentara Martha Jefferson Hospital in Charlottesville, VA. Hughes brings 18 years of experience to this role, with oversight over both clinical and operational services, including the Outpatient Surgery Center, Medical Imaging, Wound Care, Patient Satisfaction, Facilities, Nutrition Services, Environmental Services, Security and Guest Services.
"Catherine has tremendous leadership and people skills; she has excelled at managing patient satisfaction and employee engagement efforts in her previous role," says Doug Moyer, president of Sentara RMH Medical Center. "She will be a wonderful addition to the Sentara RMH family."
Hughes is a passionate and engaged leader who has a proven track record of leading successful teams while developing and implementing strategic plans for organizational quality improvement, service line growth, employee engagement and morale. She believes building relationships is key to having a successful team and building positive patient outcomes.
"Nothing I have accomplished in my 18 years at Martha Jefferson could have been done without an outstanding team working along with me. I am so proud of my time at Sentara Martha Jefferson, and while I will miss the team there, I am excited to build new relationships at Sentara RMH and in the Harrisonburg community."
As the Vice President of Operations at Sentara RMH, Hughes will be responsible for the direction/coordination of the business and operational activities of the organization. This position is responsible for the direction, oversight and implementation of the program development goals as outlined in the strategic plan for the facility, the identification of necessary physician recruitment needs to support the strategic plan, and direct oversight for the specific departments that will report to her.
Hughes holds a master's degree in Business Administration-Strategic Planning and Marketing from Walden University, a Bachelor of Science in Culinary Nutrition Arts from Johnson & Wales University, is a Registered Dietitian, and a member of the American College of Healthcare Executives (ACHE.)
Hughes will start work at Sentara RMH Medical Center on March 28, 2022.
By: Alyssa Pacheco
---