Starr Hill Health Center Partners with City of Charlottesville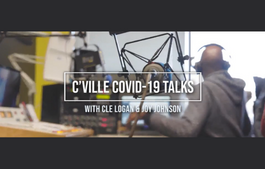 Vaccination rates in black communities are lower than all other racial/ethnic groups, while hospitalization rates and fatalities for black individuals remain high. There are many reasons for vaccine hesitancy, especially in these communities.
These "C'Ville COVID-19 Talks" were recorded with DJ Cle Logan and other members of the black community to share messaging that might encourage those who are not vaccinated to consider it. These trusted community members joined together to share their real-life experiences with COVID-19.
This effort is just one way the Sentara Starr Hill Health Center is addressing vaccine hesitancy in black communities.
In addition to being on-air, these community interviews will run as TV commercials and on social media to reach as many community members as possible.
The first interview is with Joy Johnson, a nationally recognized housing advocate. You can watch her commercial here and listen to the full interview here.
By: Alyssa Pacheco
---