Sentara tackles behavioral health crisis in emergency departments and the community
Telehealth, new staff, protocols, safety measures and grants are part of the solution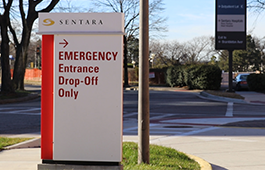 Sentara Healthcare is taking innovative steps to enhance behavioral health (BH) services in response to an influx of BH patients seeking care through its emergency departments (EDs). The spike follows Virginia's reduction in bed capacity at state psychiatric hospitals last July due to staffing and safety issues.
"Sentara is joining with community providers across the state to improve access to care and services," says Nedra Moncrief-Craig, director of behavioral health services for Sentara Healthcare. "Virginia's hospitals are also working together to address the growth in the behavioral health population in order to serve our most vulnerable patients better."
Part of the challenge is connecting individuals to behavioral health services when the need is high, and the number of inpatient beds is limited. This often results in behavioral health patients 'boarding' in hospital emergency departments. Boarding for long periods of time delays definitive care and can affect outcomes for patients. That's why Sentara is implementing new protocols and enhancing its outpatient services to improve access to community-based care and reduce the demand for ED services.
"The behavioral health community is communicating and collaborating better than ever," Moncrief-Craig continues. "Our shared goal is to ensure behavioral health patients have access to exceptional services that will improve their quality of life."
Moncrief-Craig, who joined Sentara in 2021, has convened a Hampton Roads Behavioral Health Consortium among hospitals and community providers. The group meets quarterly to discuss current issues and solutions. Sentara and the Virginia Hospital & Healthcare Association are also engaged with Virginia's new BH leadership in Richmond.
Since last July, a multi-disciplinary Sentara team has been working across 12 hospitals, five free-standing EDs and our outpatient programs to make lasting enhancements to BH services.
These include:
Redesigning behavioral health spaces in emergency departments to enhance comfort and safety.
Implemented a behavioral health telehealth program for quicker evaluations and treatment.
Increased staffing: Sentara has hired 73 behavioral health colleagues since July of 2021. These include 13 RNs, mental health associates, therapists, and nursing care partners who sit with BH patients.
Foresight Violence Prevention Program: An expert team at Sentara Norfolk General Hospital works with survivors of violence and their families to support recovery and enhance long-term outcomes by treating each patient and family holistically.
Quick access to addiction treatment: Optima Health, a Sentara-owned health plan, offers a Medicaid Managed Care benefit called Addiction Recovery & Treatment Services (ARTS) for all Optima Family Care and Optima Community Care members. Optima employs case managers to facilitate same-day or 24-hour access to addiction treatment.
New ED triage protocol takes a multidisciplinary approach to rapid intervention at the bedside for agitation, psychosis, and medication needs.
Expanded Intensive Outpatient Therapy - for patients experiencing a mental health crisis which includes substance abuse. The program allows patients to receive therapy with minimal disruption to their daily lives.
Expanded Partial Hospitalization Program for patients who need more intensive therapy.
Enhanced Recovery After Surgery (ERAS): An opioid-reducing surgical recovery program focuses on patients able and willing to prepare for and recover from surgery without using opioids for pain.
Children's mental health research grant: A $1.5M grant to the Hampton Roads Biomedical Research Consortium funds a collaborative project among ODU, EVMS and CHKD with a goal of improving the mental health and well-being of children, and better understanding of health disparities which arise from insecure childhood environments.
"Grants, such as the one for children's mental health, is in direct response to the critical need for access to services and early intervention identified by the communities we serve," says Sherry Norquist, MSN, RN, director of community engagement and impact. "We want our collaboration and support to improve the lives of individuals where they live, work, play and learn."
These enhancements are part of a commitment by Sentara to enhance behavioral health services in light of growing community need and the Sentara not-for-profit mission to improve health every day.
By: Dale Gauding
---