Sentara transplant surgeon receives LifeNet Health Humanitarian Award
Dr. John Colonna honored for compassionate support for organ donors and families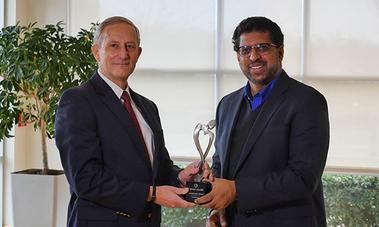 John Colonna, MD, a surgeon with Sentara Transplant Specialists, has received the 2021 Humanitarian Award from LifeNet Health for his tireless work in support of organ donation and donor families. In almost 20 years of practice at Sentara Norfolk General Hospital, Dr. Colonna and his team have transplanted more than 1,500 kidneys and 35 pancreas. Transplantation often involves urgent flights at all hours of the day and night to recover organs within narrow windows of viability for transplant.
"I always say yes to recovery and I'm happy to go," says Dr. Colonna. "I've heard from the families of deceased donors what it means to them for their loved ones to live on through organ donation," he adds. "We owe it to those families to have that opportunity for something good to come from their loss."
Living kidney donors are also a source of hope and joy for recipients, whether they are directed to a friend or relative, or non-directed to any recipient who is a match. In his years with Sentara Healthcare, Dr. Colonna has personally recovered more than 650 organs including livers, kidneys and pancreas.
"He is a selfless servant of the organ donation process," says Rony Thomas, President and CEO of LifeNet Health in Virginia Beach, the not-for-profit organ procurement agency. "He is willing to do whatever it takes to facilitate the gift of life."
That gift, for kidney recipients, is being able to get off renal dialysis multiple times a week or having their failing kidneys replaced by a healthy, functioning one before having to go on dialysis at all.
Beyond his work with Sentara, Dr. Colonna also travels to recover organs that go to other transplant programs to ensure that available organs are used. He does committee work with LifeNet Health and serves as surgical director for the kidney transplant program at Children's Hospital of The King's Daughters, where that team has performed 84 pediatric kidney transplants. He also participates in services conducted by LifeNet Health honoring organ donors and their families.
LifeNet Health established its Humanitarian Award in 2011 to recognize individuals who demonstrate the highest degree of ethics, kindness and generosity with persons in need of transplantation or donation.
"We're not just transplanting a kidney or a kidney and pancreas," Dr. Colonna concludes. "We're transforming a life, and that's why I love doing transplants."
By: Dale Gauding
---