Sentara's 2021 COVID-19 Year in Review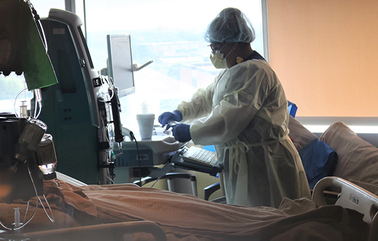 As we look back at 2021, the year began with renewed hope that the newly authorized COVID-19 vaccines would bring an end to the pandemic. Sentara Healthcare quickly stood up vaccine clinics and began educating team members, patients, and the community on the benefits of vaccination. And when reality settled in that the pandemic would continue to be part of our daily lives as COVID-19 surges came and went, our dedicated healthcare professionals persevered and continued providing care to all in need and supported one another throughout. While we know this most recent surge, largely due to the Omicron variant, has been the most challenging one yet, we would like to take a moment to recognize the incredible accomplishments of our team members during 2021.

COVID-19 Patient Care:
In 2021, we cared for more than 13,000 patients with COVID-19 in the hospital setting and cared for more than 6,500 COVID-19 patients in the ambulatory setting.
Thanks to the hard work and sacrifice of Sentara's teams of physicians, nurses and support staff, Sentara's COVID mortality rate was 12% for hospital inpatients, which is approximately 20% lower than the national average based on our benchmarking with IBM Waston.
Sentara's in-house COVID-19 testing laboratory completed roughly 240,000 COVID-19 tests for patients and team members.
Sentara Medical Group called more than 83,000 patients to deliver timely COVID test results and continued monitoring thousands of positive patients to help manage their isolation and symptoms at home.
The Sentara Health Research Center participated in five COVID-19 clinical trials with more than 1,000 patients enrolled.
COVID-19 Vaccine Clinics:
We administered nearly 200,000 vaccines to team members, patients and community members.
We hosted more than 550 COVID-19 vaccine clinics for healthcare workers, patients and community members throughout Virginia and northeast North Carolina.
43% of community vaccines administered went to minority populations. For perspective, 39% of people living in Sentara service areas are in minority populations.
Registered more than 30,000 hours worked between Sentara employees and volunteers at our vaccine clinics.
By: Kelly Kennedy
---