Thanking those who made COVID-19 vaccine clinics a success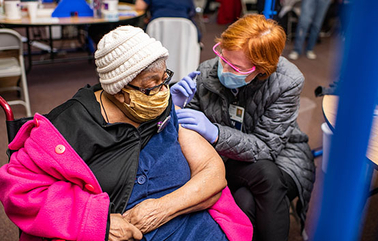 How can one adequately thank the hundreds of community and faith-based partners who took part in protecting our friends and neighbors against COVID-19? We know no matter what we do to show our appreciation, much more is deserved.
While COVID-19 vaccine clinics continue, Sentara Healthcare would like to recognize the momentous accomplishments and valued partnerships that supported the efforts to vaccinate communities across Virginia and North Carolina. Thank you to all of the community leaders, faith-based clergy, city leaders and volunteers. Without your tireless efforts, many would have gone unvaccinated.
Every community stepped up to the daunting challenges of quickly organizing and executing COVID-19 vaccine clinics as soon as possible. Just six short months ago, the idea of hosting large-scaled COVID-19 vaccine clinics at multiple venues and countless community places of worship seemed impossible. But one of the shining lights in this dark pandemic period has been our communities' resilience and teamwork. Within hours (not days), community partners from across Virginia and North Carolina mobilized and began working tirelessly to get vaccines to those who needed it most.
There is no way to properly recognize all of the valued community partners for fear of leaving someone out, but we want you to know how deeply grateful we are for your help. We saw how you worked through the night to call upon your congregations, citizens, community members and neighbors to create lists and register those eligible for vaccines. We saw how you walked door to door in your community to spread the word of vaccine safety and effectiveness, because yours is a trusted voice to many. We saw how you came together with neighboring places of worship, non-profits, and communities to unify our mission. You literally opened your doors to transform your safe space into a vaccination clinic for loved ones and neighbors. There were unexpected challenges every step of the way, but together as a team, we learned, we adapted, and we stayed on course to bring vaccines to those who needed them most.
We all know it takes a village. This village of diverse community organizations, faith-based organizations, healthcare organizations, city leadership, and local health departments showed up without hesitation. This village saved lives. Our words cannot express how thankful we are for this village.
The undertaking of these COVID-19 vaccine clinics was immense. With much help, Sentara administered more than 150,000 COVID-19 vaccines throughout more than 400 COVID-19 vaccine clinics. Our COVID-19 vaccine clinics registered more than 20,000 working hours between Sentara employees and community volunteers, with a specific focus to under-resourced and underrepresented communities.
As we pause and reflect on this incredible partnership, we are bursting with appreciation and thanks.
But, this mission is not over. We still have work to do. We are committed to continuing this work with our community partners, city governments, and faith-based leaders to increase vaccination rates, address vaccine hesitancy and inequities in our communities.
With Gratitude,
The Sentara COVID-19 Vaccine Task Force
By: The Sentara COVID-19 Vaccine Task Force
---