VB Strong Center offers virtual support services as shooting anniversary approaches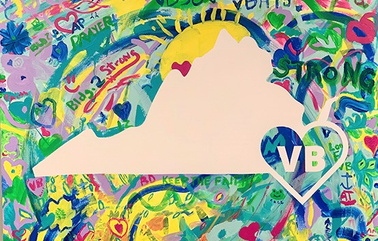 May 31, 2019 changed our communities forever. COVID-19 has changed how we connect in 2020. Neither of these can deter the spirit of people throughout Hampton Roads and the state of Virginia to honor those we lost, those who were injured, and all who witnessed this tragic event.
As May 31, 2020, and the anniversary of this tragedy approaches, the VB Strong Center wants to ensure those in need of services are able to access them virtually during the COVID-19 pandemic. While COVID-19 challenges our ability to be physically present during the anniversary, it should not take away our emotional togetherness in this time of remembrance.
The VB Strong Center is focused on offering a variety of virtual support services, either individually or as a group, to support people through the challenges of navigating a tragic anniversary and the difficulties of grieving during a pandemic. You can access the full calendar of events on the VB Strong website.
Lighting the Path: Together We Remember is the City of Virginia Beach's focus for the May 31 Remembrance. As a show of support we invite everyone to consider:
Wear blue (the color of remembrance) on May 29 – 31, 2020.
Print off and color a window display found on the VB Strong 5-31 Remembrance page. Post the picture in your home or office window.
Participate in one of the VB Strong Center programs taking place all month long
If you or someone you know is struggling as a result of May 31, 2019, please call or email the VB Strong Center for help. We provide free programs on an array of topics from self-care and creating a care plan to understanding trauma and recovery. The VB Strong clinical team is also available to meet individually to help navigate tough times and create a personalized mental wellness plan.
By: Kelly Kennedy
---