Why it's important to get your flu shot during COVID-19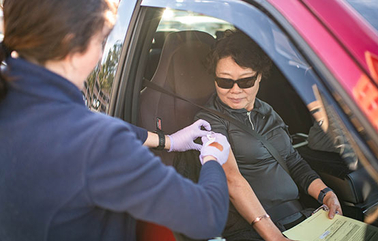 Flu season is quickly approaching in Virginia and North Carolina. Sentara hospitals usually see an increase in flu cases around mid-September and early October. Sentara healthcare leaders say it is crucial to get the flu shot this year amid the COVID-19 pandemic.
As of September 2020, COVID-19 has already contributed to more than 170,000 deaths in the United States. Because of the medical complexities of COVID-19, it is important for children and adults to get a flu vaccine this year to better protect our communities. Flu symptoms are very similar to those of COVID-19 and both viruses are more severe for the elderly and those with underlying medical conditions. Getting a flu shot to prevent the flu will allow healthcare professionals to better manage the COVID-19 pandemic, save thousands of lives, and preserve health care resources.
When should you receive a flu shot?
Public health officials recommend getting your flu shot at the beginning of flu season, during September or October 2020. Flu vaccines offer immunity for up to six months, so getting the flu shot in September will protect you through the entirety of flu season (typically ends in March-April). Getting your flu shot early will give you the most protection throughout the entire flu season. However, if you can't get a flu shot at this time, getting one later in the season will still give you protection and immunity benefits.
The CDC says it is possible to have the flu and COVID-19 at the same time, both of which can result in serious illness. Flu vaccines have been shown to reduce the risk of flu illness, hospitalization, and death. Getting a flu vaccine this fall will be more important than ever, not only to reduce your risk from flu but also to help conserve potentially scarce health care resources.
Where can you get a flu shot?
Because of COVID-19, getting your flu shot might look a little different this year. Everyone will be required to wear a mask while administering and receiving the shot, and some might be asked to stay in their car for the entire process.
Sentara patients can schedule an appointment online and visit their primary care office for a flu shot. Drugstores and pharmacies are also still offering flu shots, generally covered by insurance.
Sentara is also hosting free drive-thru flu shot events at several hospital locations throughout Hampton Roads on Saturday, October 10, 2020, starting at 8:00 a.m. until supplies last. Our drive-thru flu shot events are an opportunity for community members 18 years and older to receive a free flu shot without ever leaving their car. COVID-19 safety protocols will be followed at all times.
As part of Sentara's commitment to keeping our communities safe, all Sentara employees, volunteers, and non-employed partners are required to receive a flu shot each year to help protect the communities we serve. Sentara provides free flu shot clinics for employees throughout the month of October.
By: Kelly Kennedy
---