Saving Lives Is a Calling for Sentara Vascular Neurosurgeon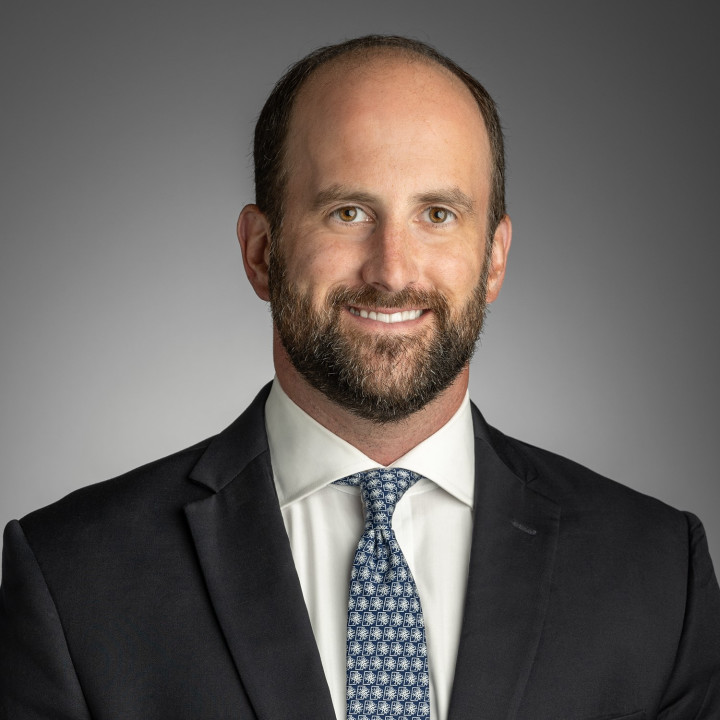 Aaron P. Wessell, M.D.
Sentara Neurosurgery Specialists
Neurosurgery
When Aaron P. Wessell, M.D., was a college student at the University of Wisconsin, his neighbor had a life-threatening hemorrhagic stroke. Dr. Wessell was working as a research assistant in the university hospital at the time, and he witnessed firsthand how his neighbor's medical care allowed him to recover. That experience affirmed his interest in medicine and set him on the path to becoming a neurosurgeon.
"I saw the incredible impact that a neurosurgeon can have on a patient's life," says Dr. Wessell, a neurosurgeon at Sentara Neurosurgery Specialists in Norfolk, Va., who specializes in vascular and endovascular neurosurgery.
Dr. Wessell grew up in a small town in central Wisconsin, where his father was a dentist. Watching his dad care for the community inspired him to pursue a medical career. Then in high school, his grandfather underwent surgery for cancer, which sparked Dr. Wessell's interest in becoming a surgeon. It was the right choice, he says.
"The most rewarding part of my work is fully using my skills to save a life or improve a person's quality of life," he says. "Neurosurgeons put in so many years of training and sacrifice to have that kind of impact. It's not just a job but a vocation."
Endovascular Neurosurgery: Treating Blood Vessels in the Brain
As a vascular neurosurgeon, Dr. Wessell specializes in treating patients with disorders of the blood vessels in the head and neck, including:
Ischemic stroke is caused by a blood clot in an artery that blocks blood flow to the brain. This is the most common type of stroke.
Hemorrhagic stroke occurs when a blood vessel in the brain ruptures, causing bleeding under the skull or within the brain tissue.
Carotid stenosis causes narrowing of the carotid arteries in the neck. This can increase the risk of ischemic stroke.
Cerebral aneurysm is a balloon-like bulge in an artery in the brain. Aneurysms can rupture without warning, causing hemorrhagic stroke.
Arteriovenous malformations are tangles of abnormal blood vessels affecting normal blood flow and can cause bleeding in the brain.
Dr. Wessell treats these conditions with conventional surgery as well as minimally-invasive endovascular surgery. Endovascular procedures use small microcatheters to treat these conditions from within the blood vessels in a less invasive fashion. Compared with traditional surgery, endovascular procedures may result in less pain, fewer risks and shorter recovery times.
Stroke Treatment at Sentara
Dr. Wessell often performs emergency surgeries for people experiencing problems like stroke.
In such cases, it's important to get treatment as quickly as possible. The American Stroke Association recommends using the letters F.A.S.T. to spot the signs of stroke and act quickly when you see:
F: Face drooping
A: Arm weakness or numbness
S: Speech difficulty
T: Time to call 911
"A stroke can happen to anyone, young or old, healthy or not," Dr. Wessell says. It's important to recognize the signs and call 911 as soon as you see them."
Sentara Neurosurgery: An Expert Team
When treating patients for planned procedures, Dr. Wessell takes his time to help patients understand their options.
"Patients often come to a neurosurgeon with a lot of fear and a lot of questions," he says. "I help educate patients about their condition so we can work together to come up with a treatment plan that meets their goals."
He was pleased to join Sentara, which has a large and robust healthcare network and experts in all areas of neurosurgery, he says. "There's a high level of expertise here, offering the gamut of neurosurgical subspecialties. Everyone has the patient's best interest at heart, and we work together to achieve the best outcomes for our patients."
Background
Dr. Wessell received his medical degree from George Washington University School of Medicine in Washington, D.C. He completed his neurosurgery residency at the University of Maryland Medical Center. During residency, he completed pediatric neurosurgery training at Johns Hopkins Hospital and a fellowship in neuroendovascular surgery at the University of Maryland. Dr. Wessell also completed a fellowship in endovascular neurosurgery at the Mayo Clinic in Jacksonville, Fla.
Dr. Wessell and his wife have four young children. They enjoy exploring the outdoors as a family. Dr. Wessell also enjoys running and playing a rare round of golf.
Dr. Wessell is a member of Sentara Neurosurgery Specialists, which offers extensive surgical options and the latest in research and technology to the Hampton Roads community. Call 757-252-9140 to make an appointment.
---