Bringing Skill and Compassion to Complex Vascular Surgery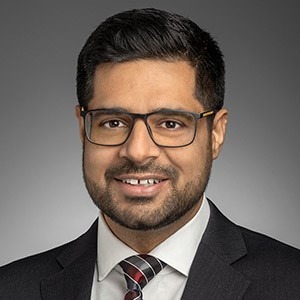 Animesh Rathore, M.D.
Sentara Vascular Specialists
Vascular Surgery
"I was drawn to vascular surgery because of the intricacy and innovation in this specialty," says Animesh Rathore, M.D., a vascular surgeon at Sentara Vascular Specialists.
But to Dr. Rathore, vascular surgery is much more than a scientific challenge. It's also an opportunity to develop long-term relationships and improve patients' lives. "I bring compassion to really understand what my patients are going through and help them on their journey through vascular disease," he says.
Bringing Skill and Compassion to Complex Vascular Disease
Dr. Rathore was first drawn to medicine by his older brother, a doctor for the Indian Army. "Growing up, I looked up to him and thought medical school was also the path for me," he says. "I was always intrigued by the complexity of the human body and the interplay of all sciences in medicine."
After medical school in India, he came to the United States and spent a year doing biomedical research at Yale University School of Medicine. He studied tissue-engineered vascular grafts, which are lab-grown tissues that can replace damaged blood vessels and heart valves. Later, while completing his medical residency, he became interested in vascular surgery.
Dr. Rathore specializes in complex vascular procedures. He is skilled in traditional open vascular surgery and minimally-invasive endovascular surgery, which uses narrow instruments inserted into blood vessels through a tiny incision.
He treats the range of conditions affecting blood vessels with a special interest in:
Complex aortic disease: Dr. Rathore treats diseases of the aorta, the main artery that carries blood away from the heart to the rest of the body. Aortic aneurysms occur when a balloon-like bulge forms in the aorta. That can cause the layers of the aorta to break apart, an emergency known as aortic dissection. Dr. Rathore treats these conditions in planned and emergency surgeries.
Carotid artery disease: The carotid arteries are large blood vessels in the neck that supply blood to the brain. In carotid artery disease, they become narrow or blocked. Untreated carotid artery disease can cause a stroke.
Peripheral artery disease (PAD): PAD is the blockage of blood vessels that carry blood to the legs. PAD increases the risk of heart attack and stroke and can lead to limb loss. Dr. Rathore performs procedures to restore blood flow, including complex procedures to save limbs.
"These diseases are truly limb - and life-threatening, and I'm passionate about treating them," he says.
Sentara Vascular Specialists: Cutting-Edge Care
Dr. Rathore was excited to join the Sentara team. Sentara Norfolk General Hospital is a large and innovative institution. "Being in an academic environment keeps you on your toes. You have to be up on all the latest studies and technologies," he says.
Sentara Vascular Specialists' skilled surgeons are trained in complex procedures and receive referrals from across the region, he adds. The hospital also participates in several clinical trials, offering vascular surgery patients access to the latest devices and treatments. "We do complex work here and have access to cutting-edge technology," he says.
He also loves the collaboration. "In our practice, we work closely with cardiac surgeons to ensure that our patients receive the best care," he says.
Background
Dr. Rathore attended Grant Medical College in Mumbai, India, and completed his medical residency at the University of Nebraska Medical Center in Omaha. He completed a fellowship in vascular surgery at Mayo Clinic in Rochester, Minn., where he was privileged to train with pioneers in both traditional vascular surgery and endovascular surgery. He is board-certified in general surgery and vascular surgery and is a member of the Society for Vascular Surgery and the Society for Clinical Vascular Surgery.
Dr. Rathore's wife is also a physician practicing at Sentara. When they're not seeing patients, they enjoy traveling nationally and internationally and hiking in the mountains of Virginia. Dr. Rathore also enjoys cooking, reading about world politics and playing cricket and racquetball with friends.
Dr. Rathore practices at Sentara Vascular Specialists in Norfolk, Va., a department of Sentara Norfolk General Hospital. Call 757-395-1600 to make an appointment.
---