Sentara Neurosurgeon Builds Relationships, Treats Back and Neck Pain With Minimally Invasive Techniques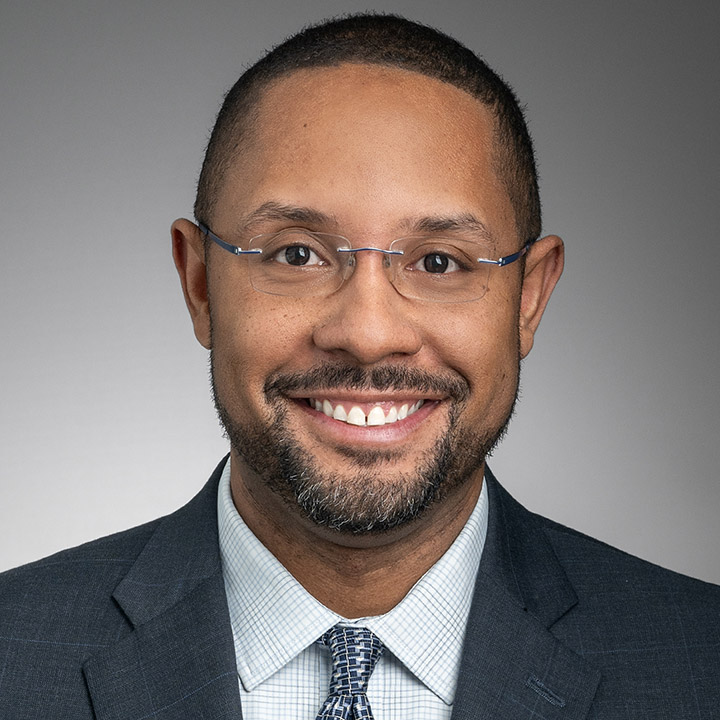 Byron Hills, M.D.
Sentara Neurosurgery Specialists
Neurosurgery
For Byron Hills, M.D., there was never any doubt he would become a doctor. At a young age, he lost a close family member to a brain aneurysm. "I read about it and became very interested in the science of it," he says. "After seeing my family go through that tough time, I wanted to help patients who had similar conditions affecting the central nervous system. This is what sparked an early interest in neurosurgery for me."
In high school, he shadowed a neurosurgeon to learn more about this possible career path. "I was fascinated by the brain and spine and by that surgeon's relationship with his patients. He spent a lot of time with his patients and developed a relationship with them to truly understand their problem," he says.
"He treated them like his own family. Seeing the patient's life completely changed after surgery was gratifying to me," shares Dr. Hills. "That solidified my path to neurosurgery."
A specialist in minimally invasive spine surgery
Today, Dr. Hills specializes in complex spine surgery and minimally invasive spine surgery. He treats adults of all ages with a variety of spinal conditions, including:
Scoliosis
Slipped disks
Spinal stenosis
Degenerative disk disease
Spinal cord compression
Spinal instability
Central nervous system tumors affecting the spine and brain
Dr. Hills can treat most spine problems with minimally invasive techniques. These procedures use microsurgical tools inserted into the skin. A high-resolution microscope allows the surgeon to view the spinal anatomy through very small incisions. Compared to traditional open spine surgery, minimally invasive spine surgeries have:
Minimal scarring
Less pain
Faster recovery times
Lower infection rates
Shorter hospital stays
When to seek help for back and neck pain
Many patients deal with back and neck pain much longer than they should, Dr. Hills says. He urges patients to see their primary care provider about any spine pain they're experiencing.
"When we can treat the problem early, it's more likely that conservative treatments like physical therapy and pain management can help," he says. "If you have more serious symptoms like weakness or pain radiating from the spine into the arms or legs, you should see a specialist."
However, many people are hesitant to seek care because they believe surgeons will recommend surgery even if it isn't needed. But Dr. Hills reassures patients that's not the case.
"My goal is actually not to do surgery. I prefer to help my patients get better without it," he says. "Surgery is the last resort. But if you do require surgery, I always have your best interest in mind. And through minimally invasive spine surgery, we can get you back to doing the things you love faster."
While he is fascinated by the science of the spine and brain, he says his relationships with patients are his driving force. "I want to develop relationships with each patient. I spend a lot of time with them, going through their imaging and looking at spine models to ensure that they truly understand their condition. When they leave the visit, they have a full understanding of the problem and my recommendations for treating it," he says. "I like patients to leave knowing that I have their best interest in mind."
"The most rewarding part of my job is seeing patients after surgery, when they can once again work, do things around the house and play with their kids or grandkids. It's so meaningful to see that my work has helped them lead a happy life."
Background
Dr. Hills was born and raised in Lafayette, La., and received his medical degree from Louisiana State University in New Orleans. He completed neurosurgery training at Case Western Reserve University in Cleveland. He is fellowship trained in complex spine surgery, minimally invasive spine surgery and neurotrauma/neurocritical care. He also has specialized training in complex cranial conditions.
Dr. Hills moved from Ohio to Virginia with his wife and three children to be closer to family. He lives in North Suffolk, where he enjoys the return to southern weather and living in an area with a strong military community. "My father was in the military, and I have a deep appreciation for those who serve our country," he says.
When he's not spending time with his family or rooting for the LSU Tigers and New Orleans Saints, Dr. Hills enjoys golfing, hunting and fishing.
Dr. Hills practices at Sentara Neurosurgery Specialists. Call 757-252-9140 to make an appointment in Norfolk, Va., or 757-736-1520 to make an appointment in Hampton, Va.
---