Sentara Colorectal Surgeon Wants Your Treatment to Match Your Goals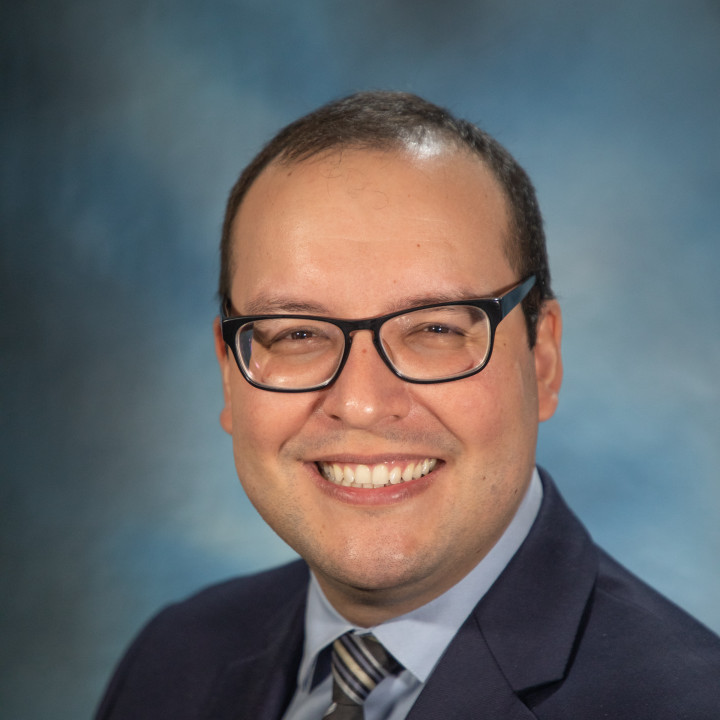 Giorgio L. Guiulfo, M.D.
Sentara Surgery Specialists
General Surgery
"In surgery, there should be no surprises," says Giorgio L. Guiulfo, M.D., a colorectal surgeon at Sentara Surgery Specialists in Harrisonburg, Va.
Dr. Guiulfo's philosophy is simple: Educate his patients about their conditions and treatment options, so they know exactly what to expect. Then work together to make medical decisions that match their values and goals.
"The days of patients doing what their doctor tells them to 'just because' are long gone. I make sure patients understand their options so that everyone is on the same page," he says.
Treating Colon and Rectal Cancer, IBD and More
Dr. Guiulfo's parents came to the U.S. from Peru shortly before he was born, and he spent most of his early life growing up in Miami. He was always good at science and drawn to biology. In college, he considered a career as a research scientist, but medicine won out. "I like working with people one-on-one, and I enjoy taking a hands - on approach - applying my skills and knowledge to help people get better," he says.
As a colorectal surgeon, he specializes in patients with diseases and disorders of the lower digestive tract. This includes conditions such as:
Colon and rectal cancers, also known as colorectal cancer
Diverticulitis, inflammation or infections occurring in small pouches that form in the digestive tract
Inflammatory bowel disease (IBD), a term for two conditions-Crohn's disease and ulcerative colitis-that cause chronic inflammation and damage to the digestive tract
"In many cases, these are lifelong-and sometimes life-threatening-problems," Dr. Guiulfo says. "My goal is to educate patients so they understand exactly what we're treating, what the risks are and what to expect during surgery."
Minimally-Invasive Colorectal Surgery
During his training, Dr. Guiulfo became interested in colorectal surgery because it's such a diverse field. He treats a range of conditions and uses many different techniques, including:
Traditional surgery: Surgeons perform these operations through a large, open incision.
Laparoscopic surgery: This minimally-invasive surgery is done through tiny incisions in the abdomen. A surgeon uses a laparoscope, a small instrument with a camera attached, to see inside the body with less trauma to the patient.
Robotic surgery: Also known as robot-assisted surgery, this is another type of minimally-invasive surgery. It allows surgeons to perform complex procedures through very small incisions.
Advanced colonoscopic interventions: Surgeons take the same type of tool used for colonoscopies and perform minimally-invasive procedures to remove precancerous tissue or early-stage cancers.
Dr. Guiulfo has specialized training in each of these techniques. Many patients prefer minimally-invasive options, which tend to have less pain and scarring, shorter hospital stays, and quicker recovery times. But the important thing is to choose the right technique for each patient, he says.
"Whenever possible, minimally-invasive procedures are the way to go. But I'm always ready to set aside the robot or camera and change course to perform whatever type of surgery is needed to get it right," he adds.
He chose Sentara, in part, because of its leading-edge approach to medicine. "It's a very forward-thinking organization, and I wanted to be part of that."
Background
Dr. Guiulfo attended medical school at the University of Central Florida and completed surgical residencies at the Icahn School of Medicine at Mount Sinai in New York and Virginia Commonwealth University in Richmond, Va. He also received fellowship training in colorectal surgery at Lenox Hill Hospital in New York City.
Dr. Guiulfo and his wife live in Harrisonburg. "It's a growing city with a lot of energy and vibrancy, and we're enjoying getting to know the community," he says. In his spare time, he is an avid gamer, playing all types, including computer, video and board games. He has also recently taken up 3D printing.
Dr. Guiulfo performs colorectal and general surgery through Sentara Surgery Specialists in Harrisonburg, Va. He is fluent in Spanish and English and passionate about treating Spanish-speaking patients and others from medically underserved populations. Call 540-689-5800 to make an appointment.
---